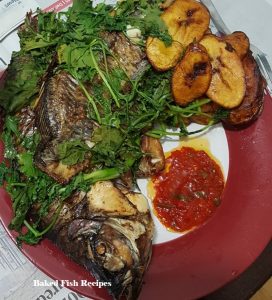 Baked fish recipes is a spicy and delicious dish with scattered vegetables all-over the baked fish and few pieces of plantain with stew to dip is another Nigerian style of food.  
Read Also: https://besthomediet.com/fried-plantain-dodo/
These baked fish recipes are very easy to make, tilapia fish is my favorite choice when it comes to baked fish or grilled fish.
I learnt how to make this recipe from my Brother-in-law; He is such a wonderful cook that knows how to combine ingredients to form nice recipes that are delicious.
Basically, baked fish recipes are not a common recipe in most Nigerian home when compared to the usual fried fish and smoked fish we all know and equally enjoy.
Moreover, making this recipe is as simple as ABCD, so just follow the instructions and you will come out with this mouth-watering dish for the family to enjoy.
How to make Baked Fish Recipes
Ingredients.
1 large Tilapia fish
1 teaspoon chili pepper
1 Knorr cube
2 tablespoons vegetable oil
2 cups of Coriander (Cilantro) leaf
Salt to taste
Instructions
First and foremost, wash and clean your fish by removing gills, gut, and scales. Ensure you rinse very well until water comes out clean.
Secondly, take a knife and give the fish deep slashes on both sides of the fish since this helps marinate penetrate very well into the fish and boost the taste.
 Thirdly, using a bowl, mix your chili pepper, vegetable oil, salt, and Knorr cube after that apply the marinate all-over the fish ( if you are not in a hurry to cook allow the marinate to settle for about 2 hours before baking).
Fourthly, preheat the oven at 180C while waiting for marinate to settle, (in case you are in a haste to catch-up with time just go ahead and bake) immediately you finished marinating the fish.
In addition, cook for 20 minutes then turn to the other side as you also back for about 15 minutes until it turns brown then off the oven.
Finally, sprinkle the remaining mixtures on the coriander leaf before scattering the leaf on top of the fish return back to oven allowing the heat to bake the vegetables slowly.
Serve with fried plantain and stew for dip.
Enjoy your delicious food!
Baked fish recipes near me Chicken Republic