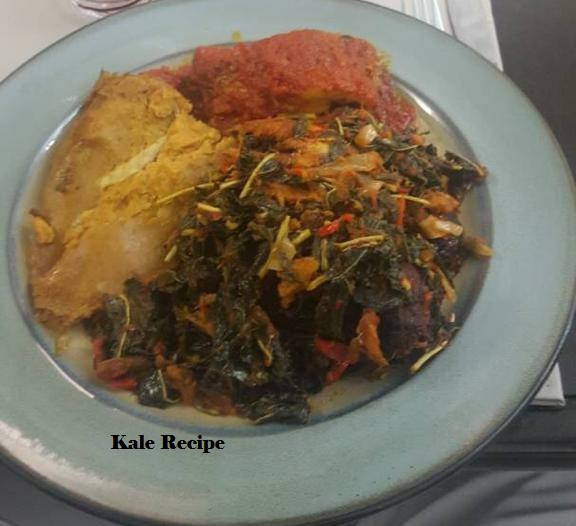 The Nigerian kale stew efo tete is a spicy and savory delicacy; Delicious kale recipes can easily be prepared just like every other vegetable stew using kale leaves in place of fluted pumpkin leaves (Ugu), and spinach leaves.
Delicious kale recipe is a combination of fresh tomatoes, onions, salt, curry, thyme, red bell pepper, and Knorr cube, finely slice kale leaves, stir fry in vegetable oil to form a vegetable stew.
Basically, there are different kinds of kale recipes that can be prepared and serve as soup, stew, smoothies, up to the point as chips being enjoyed in various homes. So what is your take?
Delicious Kale Recipes Nutrition Facts
Kale is a cruciferous vegetable like cauliflower, cabbage, broccoli, and collard greens; it comes in either green or purple color, on the other hand, it can also be curly or smooth in shape.
These leave is a good source of antioxidant that can prevent cancer cells, rich in vitamin A for better vision, vitamin C, and K, it has low cholesterol thereby lowering the risk of heart diseases.
It contains vitamin B1, B2, magnesium, potassium, calcium, and niacin, in the same vein; it's amazingly low in calories which are perfect for those on low carb diet and weight loss.
Kale is been classify as one of the healthiest nutrient-dense foods in the world, consuming these food significantly buildup amount of nutrient content in your daily diet.
Delicious Kale Recipes for Stew
Ingredients
1 bunch of fresh kale leaves (in place of Ugu/Efo tete)
4 large fresh tomatoes (well blend)
1 large size onions- diced
½ cup vegetable oil
½ teaspoon curry
1 red bell pepper
1 Knorr cube
Salt to taste
¼ teaspoon thyme
½ cup chicken stock
¼ teaspoon black pepper
Instructions on how to cook kale soup
First of all tender your kale leaves, remove from the stem/stalk after that wash in running water then place in a sieve to drain.
Secondly, cut the leaves into a bowl sprinkle salt and massage with two hands until water comes out of the leaves making it tender for use.
Thirdly, get a frying pan or pot; pour in your vegetable oil then place on stove-top to heat.
Thereafter, stir in the diced onions allow frying for 2 minutes before adding the blended tomatoes, continue to stir for about 5 minutes.
Add all spices (Knorr cube, curry, thyme, red bell pepper, and black pepper) stir fry for another 1- 2 minutes.
Finally pour in the chicken stock stir thoroughly and add salt to taste cover and allow cooking for 2 minutes.
In conclusion stir in the tender kale leaves into the mixture, stir to ensure is well mixed then cook for 30 seconds and remove from heat/fire.
The stew is ready spicy, tasty, and delicious.
Serve your kale stew with moi – moi, yam, plantain, and rice.