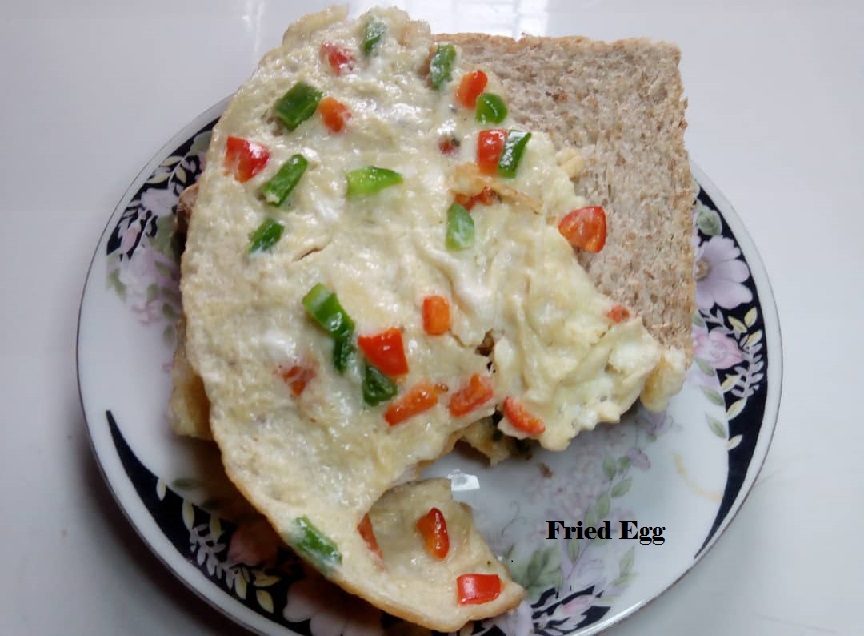 One of Nigerian's easy breakfasts is fried egg with bread, basically, fried eggs recipe is quite easy to make and always very delicious when properly cooked.
This food is not just only for breakfast alone, but, serves as one of the best dinner ideas for most people especially during the raining season with a hot cup of tea to go with.
Meanwhile, I made this simple breakfast for myself within a few minutes, since, I needed to catch up with my appointment this morning and will not want to miss out breakfast.
Egg fries is one of my favorite especially in the morning although when it comes to healthy eating it's advisable to go for less fries and take more vegetables.
Moreover, kids love these egg recipes at all times, in the same vein, they will never say no when it comes to egg sauce for breakfast not minding what is been combined with the egg. 
Calories in a fried egg are about 92 calories, in other words, calories breakdown is as follows, 70% fat, 28% protein, in addition, 2% carb, therefore, the calories increases when the number of eggs increases.
Read Also: https://besthomediet.com/shakshuka-nigerian-tomato-and-poached-egg-sauce/
Types of Fried Eggs
There are different types of other fried eggs such as
Scrambled egg
Shirred eggs
Omelets
Over easy eggs
Sunny side up egg
Poached eggs.
How to make Fried Egg
Ingredients
2 medium size eggs
¼ size red bell pepper
¼ size green pepper
¼ size onion
3 tablespoons of vegetable oil
Pinch of spice (optional)
Salt to taste
Directions
First of all, wash your onions, red bell pepper, and green pepper, after that, dices the onion into very small sizes, and then finely chops the red bell pepper and green pepper.
Secondly, in a large bowl, crack the eggs and beat, thereafter, pour in the red bell pepper, green pepper, and sprinkle in the spice and salt to taste.
Thirdly, heat up your egg frying pan, pour in the vegetable oil allow to heat before stirring in the dice onions stir for about 60 seconds.
Fourthly, pour in the egg mixture, don't stir immediately cook for 1-2 minutes before turning to the other side to fry for 2 minutes
Finally, remove from heat into a clean flat plate.
Serve and enjoy with wheat bread and a cup of tea just like my breakfast.