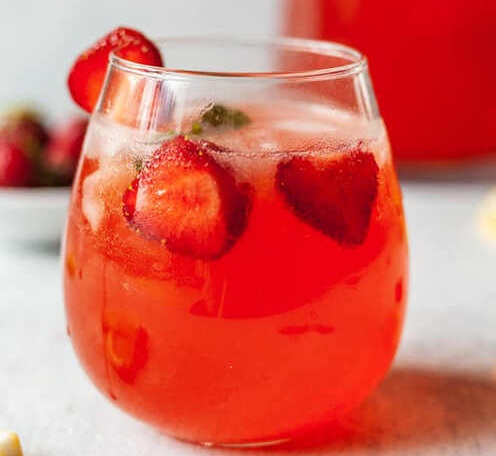 Strawberry Acai Refresher – Starbucks Strawberry Acai Refresher Copycat Recipe
This Strawberry Acai Refresher Starbucks is perfect for a hot summer day!
The refreshing and sweet flavors of strawberries and acai berries combined with the fresh and energizing taste of lemon will give you the boost you need to power through the day.
You'll be amazed at how easy it is to make your own homemade strawberry lemonade.
It's a refreshing drink that you can have any time of the year, not just when there are strawberries in season.
The combination of the sweet and tangy taste of the strawberries with the tartness of the lemons makes for a very good combination.
If you love making drinks from fresh fruits, then you should give this strawberry lemonade recipe a try.
It only takes about 20 minutes to make but will leave you feeling refreshed and ready to tackle another day.
Since it is fully customized, I prefer to make my own variations of Starbucks drinks, like this Strawberry Acai Refresher Starbucks copycat. especially considering how diluted the real Starbucks drink typically tastes. low sugars? Extra strawberries? It's simple.
Because this Strawberry Acai Lemonade truly is summer refreshment in a glass, many Starbucks lovers should be familiar with this beverage.
Without using sugar, I tried to replicate the flavor of a strawberry açai refresher. You see, I wanted to make it flexible enough for you to choose the sweetener of your choice. I adore this recipe when it uses organic cane sugar or stevia.
What is an acai refresher?
Refreshers are iced Starbucks beverages that come with fruit scoops, fruit juice, and green coffee extract. There are several flavors they provide, but Strawberry Acai is the most preferred by a lot of people.
How do I store leftovers?
You can keep leftovers in your refrigerator in a big Mason jar. It should last approximately two weeks when properly stored.
Shake the leftovers before serving since these ingredients may settle when you are ready to serve them.
Strawberry acai refresher nutrition
The Beverages Strawberry Acai Refresher Starbucks Grand (16 fl oz) contains 22g total carbs, 0g fat, 0g protein, 21g net carbs, and 90 calories.
Variation Ideas on Strawberry Acai Refresher
The green coffee extract can be used in place of or alternative to steeped green tea if you don't like the flavor of green tea. It just serves as a technique to add caffeine because it adds no flavor. Let's make lemonade!
Lemonade should be used in place of the fruit juices. If you do this, you might want to skip the honey.
Remove the green tea/green coffee extract to make it caffeine-free.
Simply add fresh ground-up freeze-dried refrigerated strawberries to the drink to give it a little more tart and fruity flavor.
By omitting the fruit juices and substituting coconut milk in their place, you may transform this beverage into a Starbucks Pink Drink.
You may also get their Pineapple Passionfruit and Mango Dragonfruit varieties. The delicious BLT Chicken Salad Sandwich, which has been discontinued, goes nicely with the recipe.
How to Make Strawberry acai refresher
Ingredients
1 teaspoon Acai Powder
1 teaspoon Strawberry Powder
1/4 cup Strong Steeped Green Tea – or Matcha (green tea powder) you could use a little
bit of Green Coffee Extract Powder
4 cups Cold Water
1 3/4 cups White Grape Juice
1/4 cup Passionfruit Juice
2 Tablespoons HoneyIce, as desired Sliced Strawberries, optional garnish Coconut Milk, optional mix-in (as desired, I suggest 1/4 cup per serving)
Instructions on How to Make Strawberry acai refresher
Firstly, Place the acai and strawberry powder in a large pitcher and add the hot green tea to dissolve.
Secondly, Pour in the cold water, grape juice, passionfruit juice, and honey, and whisk to combine.
Thirdly, take a sip and see if it's sweet enough for your taste! Some people like it sweeter while others like it less sweet.
Refrigerate until ready to serve.
Serve and enjoy!
Tips on Strawberry Acai Refresher
Simply use coconut milk in place of water to make the pink beverage. If you prefer a stronger flavor, you could choose to add a little extra strawberry powder or passionfruit puree to the recipe. And be sure to use refrigerated coconut milk
Although I prefer unsweetened coconut milk, Starbucks utilizes sweetened coconut milk. It's a personal preference.
Frequently Asked Questions – FAQ
What ingredients are in Starbucks' strawberry lemonade refresher?
Ingredients: Ice, lemonade (water, lemon juice, sugar, lemon oil), strawberries that have been freeze-dried, and strawberry acai base (water, sugar, white grape juice concentrate, citric acid, natural flavors, natural green coffee extract, fruit and vegetable juice, artificial sweetener) are some of the ingredients.
What lemonade does Starbucks use?
Starbucks utilizes their own lemonade concentrate composed of water, lemon juice, lemon oil, and sugar, despite some people thinking it tastes like Simply Lemonade or Minute Maid.
How do you order strawberry lemonade at Starbucks?
Ordering Strawberry Lemonade:
Ask for a Strawberry Lemonade from your waiter, and perhaps they can prepare one for you. Some of the ingredients displayed are not available or permitted at every restaurant and costs may differ.
Is there caffeine in a Starbucks strawberry lemonade
The Strawberry Acai Lemonade includes roughly 45 mg of caffeine in a large, according to Starbucks website.
Do refreshers have caffeine?
2.81 mg of caffeine are included in one fl oz of Starbucks Refreshers (9.51 mg per 100 ml). A 16 fl oz cup has 45 mg of caffeine in total.
What Starbucks drink is pink?
The Pink Starbucks refreshing Drink is a light beverage that combines Coconut milk, and scoop of strawberries with hints of passion fruit and sweet flavors of Strawberry Acai Refreshers.
What is a Pinkity Drinkity made of?
A nutritious beverage with a touch of sweetness is called the Pinkity Drinkity ( Caffeinated Pink Drink Strawberry Coconut). This drink is incredibly refreshing because to the addition of creamy coconut milk, fresh strawberries, and raw honey to green tea and hibiscus.
Can kids drink the pink drink from Starbucks?
Kids will enjoy Starbucks' Pink Drink very much. This beverage is not only a hit online, but it is also quite light and refreshing. Passion fruit, strawberry Acai Refreshers, coconut milk, and a sprinkle of strawberries are used to make the delectable concoction.
Related Topics