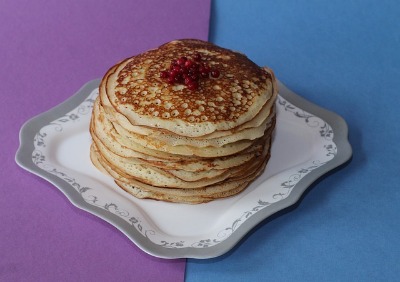 Nigerian Pancake Recipe – Step-by-Step Guide How to Pancakes at Home
Pancakes are a classic breakfast or dessert option. They're sweet and fluffy and can be prepared in a variety of different ways. In this blog, we will show you how to make pancakes with the best ingredients and without gluten!
To make ultimate fluffy pancakes from scratch; all you required are few basic ingredients that exist in your kitchen.
The vanilla flavor pancakes are tasty but you can as well use nutmeg in place of vanilla. simply adjust them to whatever you have on hand.
Are Pancakes Healthy?  Nigerian Pancake Recipe
Yes! Pancakes are a healthy filling breakfast meal with a lot of carbs with vitamins and minerals. Pancakes, on the other hand, might have a lot of fat, calories, and salt in them.
Pancakes may be incorporated into your diet on a regular basis with cautious meal planning; though moderation is still the key to every food.
What is Pancakes? Nigerian Pancake Recipe
Pancakes are a popular breakfast dish that many people enjoy. Pan cakes is a thin, flat batter pastry that is fried on both sides in a pan and then rolled up with a sweet or savory filling. They can be eaten with a variety of toppings and they're easy to make.
These pancakes are fluffy, easy to make and we guarantee this is the best pancake recipe ever! We hope you enjoy it!
Nigerian Pancake Recipe | How to Make Pancakes at Home
Most Nigerian delicacies are deep-fried, but this one is shallow-fried. In other words, it's fried like eggs. Nigerian Pancakes for breakfast are largely classic meals prepared at home.
Similarly, African Pancakes are easy and straightforward though delicious.
As with most pancakes, the African pancake is created with "dry ingredients" like flour, baking powder salt, and sugar as well as "wet ingredients" like milk, egg, vanilla, and water.
How to make pancake mix with, flour, eggs, sugar, powdered milk flavor or evaporated, chili pepper, nutmeg or vanilla are all common ingredients in Nigerian pan cakes.
To take the pancake to the next level and make it taste good, use natural ingredients like fruit for toppings.
There are people that enjoy adding onions and pepper to fried pancakes for a more authentic flavor popularly known as Diet.
In addition to the above-mentioned spices and ingredients, other spices and ingredients can be used; it all depends on personal preference.
Are you aware that some people experiment with pan cakes without eggs, baking powder, flour, milk, or other ingredients?
It's easy to make Nigerian fluff pancakes. For a speedy breakfast, prepare the batter the night before, store it in the fridge, and fry it the next morning.
These pancakes are fluffy, easy to make and we guarantee this is the best pancake recipe ever! We hope you enjoy it!
Step-by-Step Guide How to make  Pancakes at Home
Simple step-by-step guide on how to make pancakes with flour milk, eggs, and sugar for delicious Nigerian Pancakes that taste wow!
Pancake Ingredients
3 cups of flour
Pinch of salt
2 tbsp sugar
1 tbsp baking powder
2 eggs, beaten
1¾ cups milk (or 2 tbsp powdered milk)
1/4 teaspoon nutmeg, grated or Vanilla flavor
Minced pepper & Onion (Optional)
3 tbsp oil or butter for frying
Direction with a Step-by-Step Guide for Making Pancakes at Home
To begin, measure the flour and baking powder, then filter them into a mixing dish. Into the flour, grate the nutmeg into the flour optional.
Secondly, whisk the egg, and then combine the milk and water in a mixing bowl.
Thirdly, combine all of the wet ingredients, and then dissolve the sugar in the wet mixture.
Pour the liquid mixture into the flour slowly and mix thoroughly. In case you want the Naija style combine the pepper and onion in a mixing bowl and stir to combine else ignore.
Lastly, allow sitting for about 10 minutes for the pancake batter to rest before frying in small batches until golden brown.
Finally, grease your frying pan with the melted butter or drop 1/4 teaspoon of vegetable oil into the pan allows heating. Thereafter scoop in the pancake batter into the pan fry, and flip to the other side until the color turns golden brown.
Repeat the same process until all batter mix is exhausted. Place the fried pancakes on a sieve lined with a paper towel to drain oil.
We hope you enjoy it!
Serve and enjoy while still warm.
Yummy!!