Yam recipes, there are several easy homemade yam recipes in Nigeria such as Yam and Vegetable, Yams Pepper Soup, Yam Porridge, Yam and Egg, Fried Yams that is being enjoyed in various homes.
Meanwhile, yams recipes are tasty and delicious delicacies that can be prepared either traditionally or as modern cuisine, in other words, yam is a staple food in Nigeria likewise in other parts of the world.
Basically, well-cooked yams recipes can be eating as a good breakfast, lunch or dinner.
Also Read: https://besthomediet.com/yummy-macaroni-salad/
Moreover, yams are also healthy foods with lots of nutritional value that is being undermined by some individuals that don't appreciate eating yam.
Yam Recipes Nutrition Value
Certainly, yams recipes equally have nutritional values; yam is a good source of carbohydrate, it is a starchy vegetable when digested converts to sugar, glucose that supplies energy to the body and enable proper functioning.
Furthermore, is rich in fiber aids good digestion and bowel movement, vitamin C, which is good for a healthy immune system that is to say; it helps combat infection like flu, cold and aids proper healing of wounds.
It also contains potassium, magnesium, and vitamin B which is outstanding when it comes to carbohydrate food for diabetes patients.
Will Yam Make You Gain Weight?
Although yams are carbohydrate it will not make you gain weight when taken in moderation because a serving cup of doya contains about 155 calories and approximately 1500 calories are needed daily to maintain and lose weight.
The fiber inside assist to lower the rate of sugar is processed thereby making you full and reduce the craving for more food in a very short while.
These are the 5 Appetizing Recipes of Yam out of the numerous recipes in Nigeria.
Yam Porridge (Pottage)
Yam porridge can be seen as jollof yams it is popularly called Asaro by the Yoruba's ingredients needed are doya, palm oil, beef or fish depending on what you prefer and spices.
Peel the yams wash and place on the pot add all spices cook, ensure well-cooked as you stir continuously to thicken the water like pudding.
Remove from heat and serve.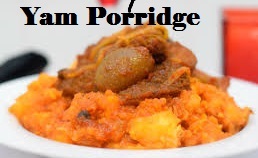 Yam and Egg sauce Recipe.
First of all, peel the white yams, wash after that place on the stove add a pinch of salt then cook.
Secondly, cut your tomatoes, onions and pepper, add vegetable oil in a saucepan or pot heat and fry all ingredients spice and salt to taste then beat the eggs and pour into the tomatoes stir fry for extra 2 minutes remove from heat.
At this point y am egg sauce is ready serve and enjoy.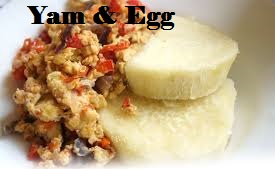 The yams can be fried or boiled but in these recipes, I choose boiled yams and vegetable sauce.
Cut, wash and boil the yams, wash and slice your vegetables keep separately ready for use.
Slice your tomatoes, onions, pepper, and fry using vegetable oil stir for a while thereafter, add spice and salt to taste.
Finally, add the vegetables into the tomatoes stir for 1 minute remove from heat serve and eat.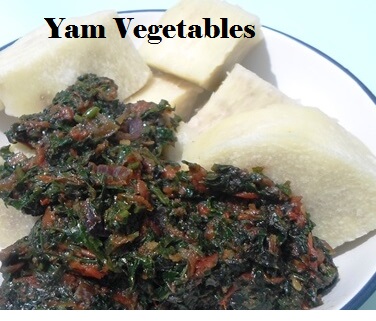 Yams Pepper Soup
Yam and cat fish pepper soup is a very popular food in virtually every Restaurants, food joints and hotel in Nigeria.
Cut and wash your fish, pour in a pot, spice with your ingredients allow cooking with enough water that forms sauce at the end.
Peel the yams, wash and add into the boiling fish stir, continue to cook until is well cooked.
Remove from fire and serve.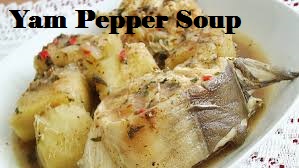 Fried Yams and Stew
Fried yam is the number 1 easy breakfast recipe in most families, even more, most people love eating fried yam in the evening or at night especially stopping by the road side to buy from those women selling fried yam.
Slice and wash the Ji, sprinkle salt and mix by tossing it up and down inside a bowl in other to mix very well with salt.
Pour in vegetable oil into the frying pan heat and fry until dry with crispy back remove from fire and continue the process until you finish all cut yams.
Serve with stew, mayonnaise or tomato ketchup.

Watch out for more yams recipes in Nigeria and beyond.