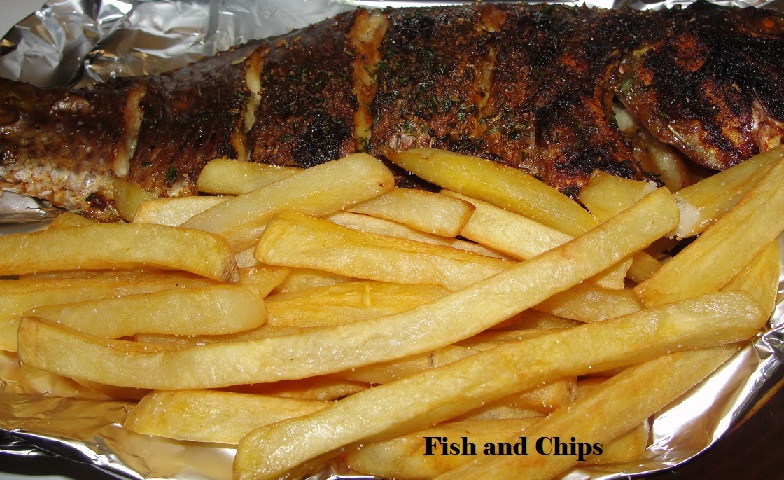 Fish is one recipe we all loved either fried, roasted, cooked, grilled, or baked, but pairing fish and chips is another way of enjoying this delicious superfood.
Homemade fish and chips recipe is very easy to make and serve at all time, moreover, this recipe is one of British traditional food popularly known as British fish and chips.
English fish and chips recipe
Basically, fish n chips can also be served in a family get to gather, picnics, and the likes because is a dish they will not resist and will always ask for more.
 In Nigeria, there are several ways of eating this dish, though some people still go for the traditional way where our grandparents will always roast fish.
Similarly, fish and chips batter is sold in some restaurants and shops around my vicinity, fish and chips near me are Bungalow Restaurant  
Read Also: https://besthomediet.com/baked-fish-recipes-nigerian-baked-vegetable-fish/
How to make Fish and Chips
Ingredients
1 medium size Tilapia fish
½ teaspoon black pepper
1 cube of seasoning
¾ teaspoon garlic powder (optional)
¾ teaspoon ginger (optional)
Salt to taste
Ingredients for chips
4 medium size potatoes
2 cups of vegetable oil
Directions on how to Cook fish and chips recipe
First of all, remove the scales of the fish and clean properly, use a knife and cut in between the fish making deep incisions on both sides of the fish.
Secondly, mix the black pepper, garlic powder, salt, and seasoning cube together, after that use the mixture to marinate the fish and allow sitting for about 10 minutes
Thirdly, heat up the oven at 250C, subsequently, cover the oven tray with a foil paper before placing the fish on the tray to bake for 15 minutes on each side.
At this point, the color will change when properly baked remove from the oven ready to be served.
Furthermore, peel your potatoes and slice into chips wash drain in a sieve
Finally, pour in the vegetable oil in a frying pan heat and fry your chips until golden brown, then remove from the fire into a sieve allowing draining.
Serve and enjoy with stew sauce and a cup of juice.