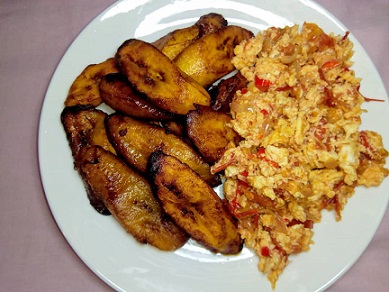 Easy egg breakfast like Fried plantain and egg sauce recipe is a palatable meal of all time and season; it's a simple and easy dish to cook. Plantain egg sauce is a common breakfast food in most homes.
Nigerian egg sauce with fried plantain is one of my favorite delicacies; moreover, they are naturally sweet food; and a good source of energy needed in the body.
 Plantain is classified as starchy fruits and the ripe plantain can as well be eaten raw. In other word, plantain recipe with egg is a healthy combination of carbohydrate and protein. Plantain is rich in vitamin B6; the unripe plantains also refer to as green plantain is high in Vitamin C, A, and K, Magnesium, and potassium.
In Nigeria, plantain are seasonal fruits and could be very expensive when is out of season. So enjoy this fruit by making different types of easy egg breakfast delicacies such as; plantain omelette, Plantain and egg sandwich, plantain egg frittata, or fried plantain pizza.
How to Make Nigerian Fried Plantain and Egg Sauce Recipe
Ingredients
2 ripe plantains
4 fresh tomatoes
3 eggs
4 scotch bonnet peppers
2 Bell peppers (Optional)
1 medium onion
1 Seasoning cube
Vegetable oil for frying
salt to taste
Method of Preparing Easy Egg Breakfast
First of all, wash your plantains in other to remove any dirt or sand from the skin. Thereafter, peel the back and slice into choice shape and size.
Secondly, wash the tomatoes, onions, and pepper; then finely slice your tomatoes, pepper, and onions in a plate, keep aside for later use.
Thirdly, heat your vegetable oil or olive oil in a frying pan, sprinkle salt in the slice plantain, toss repeatedly to mix. Stir in the plantain into the hot oil and fry until color turns golden brown, remove from heat transfer into a sieve allow the oil to drain.
Finally, reduce the quantity of oil in the frying pan, heat again and stir in the slice onions; stir fry for like 30 seconds before adding the sliced tomatoes and pepper. fry for about 3-5 minutes, add the seasoning cube salt to taste, whisk the eggs and pour into the frying pan. I like my to be slightly peppery so I add little more pepper to taste.
Stir to mix properly with the tomato stew for 2 minutes, and lastly remove from heat, so your easy egg breakfast is ready.
Serve your delicious yummy fried plantain with egg sauce.
FAQs on Fried Plantain and Egg
What is fried plantain?
Fried plantain is a dish made from ripe plantains that are sliced and deep-fried until they turn golden brown and crispy. It is a popular dish in many countries, particularly in Africa, the Caribbean, and parts of South America.
How do you prepare fried plantain?
To prepare fried plantain, you will need ripe plantains, cooking oil, and salt (optional). Start by peeling the plantains and cutting them into slices, either diagonally or into rounds. Heat the cooking oil in a frying pan or deep fryer.
Once the oil is hot, carefully place the plantain slices into the oil and fry them until they turn golden brown. Remove the fried plantains from the oil and place them on a paper towel to drain excess oil. Sprinkle salt over the fried plantains if desired, and they are ready to be served.
What are the different stages of ripeness for plantains?
Plantains go through different stages of ripeness, and each stage is suitable for different types of dishes. The three main stages of plantain ripeness are:
Green: Green plantains are unripe and firm. They have a starchy texture and are often used in savory dishes like plantain chips or boiled plantains.
Yellow: Yellow plantains are partially ripe. They have a softer texture and a slightly sweet taste. They are commonly used in dishes like fried plantains or baked plantains.
Black: Black plantains are fully ripe and have a sweet flavor. They are very soft and are typically used for making sweet desserts or added to dishes for extra sweetness.
Can fried plantains be eaten on their own?
Yes! fried plantains can be eaten on their own as a snack or side dish. They are delicious and have a naturally sweet taste when they are fully ripe. However, they are also often served as a side dish with savory meals, such as with rice and beans or grilled meat.
What is the typical way to serve fried plantain and egg?
Fried plantain and egg is a popular combination in many cuisines. The dish is usually prepared by frying ripe plantains and serving them alongside fried or scrambled eggs. It can be enjoyed as a hearty breakfast or served as a main course for lunch or dinner. The sweetness of the plantains complements the savory flavor of the eggs, creating a delicious balance of flavors.
Are there any variations of fried plantain and egg?
Yes, there are variations of fried plantain and egg depending on regional preferences and personal taste. Some variations include:
Adding spices: You can add spices like paprika, cayenne pepper, or garlic powder to the eggs for extra flavor.
Topping with vegetables: Sautéed onions, bell peppers, tomatoes, or leafy greens like spinach can be added to the dish for added color and nutrition.
Combining with other ingredients: Some variations include adding bacon, sausage, or cheese to the dish to enhance the flavor and texture.
Serving with sauces: Some people enjoy serving fried plantain and egg with hot sauce, ketchup, or salsa for an additional kick of flavor.
Feel free to customize the dish to suit your preferences and experiment with different flavors!