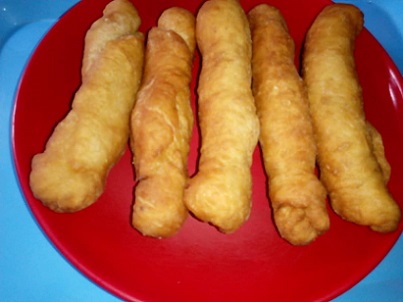 Fish Roll is a tasty and crunchy deep-fried snack made with flour, sugar, and baking powder to form a soft dough that is garnished with a fish filling and rolled before frying.
Nigerian fish roll is a popular street snack that is delicious and is common street food in Most West African Countries like Ghana, Cameroon, and Togo. It's sometimes refers to as African fish pie but it more of fish rolls than fish pie.
Basically, there are different snacks usually called fish roll but African fish roll recipe is a lot more different. This pastry dough is just similar to a chicken pie and meat pie pastry rolled in a spicy sardine fish sauce.
Homemade fish roll is quite easy to make, moreover, the Cameroon fish roll recipe is slightly similar to the Indian style thou they add more spices and plenty of fish on the filling.
How to Make Nigerian Fish Roll Recipe
The typical Nigerian fish pie is usually fried until golden brown. Meanwhile, for a healthier version; baking the fish roll reduces the oil especially when the oil used is not heart-friendly oil.
Ingredients
2 ½ cups of All-Purpose Flour
4 teaspoons butter or margarine unsalted
½ teaspoon salt
1 egg (optional)
1 tablespoon of baking powder
2 tablespoon sugar
Recipe for the Fish Roll Filling
1 canned Sardine (or Fresh Mackerel, Salmon or Canned Tuna fish)
½ medium size onions (finely chopped)
¼ teaspoon garlic powder
1 seasoning cube
¼ teaspoon chili pepper (optional)
¼ teaspoon curry powder
Pinch of salt to taste
Vegetable oil for frying
Tips for Making Fish Sauce
Fresh Mackerel – the first and foremost thing to do is wash and season the fish by adding chopped onions, curry powder, garlic, thyme, seasoning cube, and salt to taste. Add little quantity of water and cook to tender, thereafter, remove the fish from stock, allow cooling before removing the bones and mash using fork spoon.
Smoked Salmon Fish – wash in salted water and debone the fish properly, then pieces into small bits before using to make a fish filling sauce.
Method of Preparing Fish Rolls
In a deep bowl pour in the flour, baking powder, butter, sugar, and salt; mix to incorporate and becomes crumbly, after that add in the egg and mix.
Secondly, start adding water to the flour little by little until pastry/dough is form
Thirdly, transfer the dough to a flat surface and knead for like 3 minutes don't overwork the dough; thereafter, cover and allow resting for about 20 minutes.
Fourthly, in a frying pan or woks, bring the oil to heat, then stir in the sliced onions and stir fry for about 1 minute. Add in the curry, thyme, seasoning cube, garlic powder, chili pepper, and your sardine fish without oil; taste before adding salt because the fish is usually salty.
Next is to mash the fish with a fork or with your cooking spoon and make ready for use.
Back to your pastry/dough, roll out the dough with a rolling pin and cut into shapes; fill with 1 spoon fish sauce and roll over the dough to cover, close the two edges properly so the sauce will not pour out when frying.
Finally, heat oil and fry your fish rolls until golden brown color on both sides, remove and repeat the same process for all; your delicious sardine roll pastry recipe is ready.
Serve and Enjoy!
QUSETIONS
Can I bake Nigerian Fish Roll?
Categorically, yes you can as well bake your fish rolls and filling with fish sauce, then roll and transfer to your preheated oven and bake on medium heat to brown; instead of frying.
How to make fish rolls with Yeast?
Fish rolls especially the Nigerian style fish pie is known for baking powder which gives that crunchy crust feeling when eating. You can substitute baking powder for yeast and your fish rolls will be softer.