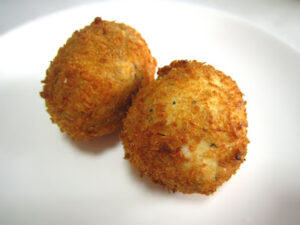 How to Make Fried Hard Boiled Eggs Recipe – Deep Fried boiled Eggs | Air Fried Hard Boiled Eggs – Baid Maza3lil
Fried boiled eggs are hard-boiled eggs that have been fried in oil or butter until the white color becomes golden brown and is crispy on the outer with a tender inner. Egyptian Baid Maza3lil (Fried hard boiled eggs) or Baid Mezaghlil.
Deep-Fried boiled eggs are pretty tasty so you can cook superb hard-boiled eggs in butter/oil until golden and crispy; for sure they are really delicious!
The eggs can be a soft boil or hard boil depending on your preference below is how to make either of them:
How to Cook Soft Boil Eggs – Fried Boiled Eggs Recipe
Soft-boiled eggs are cooked long enough to solidify the white but still have a moist runny yolk. To prepare deep-fried eggs, start with soft-boiled eggs since they will continue to cook while being fried. Soft boiling eggs can be accomplished in two ways:
Heat a pan of water on the stove. Once the eggs are in the water, you will need enough water to completely cover them. Once the water has reached a boil, reduce the heat to maintain a simmer and add the eggs and cook for 3 – 4 minutes.
Instant Pot is another method for cooking eggs — it always works and the eggs are simpler to peel. Once they're done, place them in a basin with water and ice to chill. This will take around 10 to 15 minutes.
How to Cook Hard Boiled Eggs
Basically, hard-boiled eggs are cooked long enough to solidify the egg white as well as the yolk. Boil the eggs for 8-10 minutes for a more cooked yolk
How to Make Crispy Fried Boiled Eggs Recipe – Baid Maza3lil Recipe
Ingredients
 5-6 Eggs
1 cup flour (all-purpose)
40g breadcrumbs (panko or Homemade)
1/4 tsp Mix blended spices
½ tsp salt
1 tsp black pepper (ground)
1 egg, beaten
vegetable oil for frying
Direction on How to Make Crispy Fried Boiled Eggs
Firstly, in a saucepan, bring enough water to cover the eggs to a boil.
Boil the eggs for 5-7 minutes (I did 2 at a time and did 5 minutes 30 seconds for a runny yolk like mine). 6 minutes 30 seconds for a more cooked yolk)
Remove the eggs from the boiling water and place them in cold water for at least 5 minutes.
In a clean bowl, mix together your flour, salt, ground pepper, and mix spices; then in another bowl is the beaten egg white in the last bowl pour in your Panko breadcrumbs or homemade bread crumbs.
The next step is to gently peel off the shells of the eggs and coat them in flour mixture, then dip them in beaten egg, and finally roll them in breadcrumbs.
Over medium heat, heat your vegetable oil in a saucepan you can drop a little size of onion on the oil to ascertain how hot the oil is before frying the eggs.
Lastly is to fry the coated eggs for like 2 minutes in the hot oil. Flip the eggs quickly to the other side to cook as well until they brown on both sides. As soon as the eggs get golden brown, remove them from the oil.

Serve and Enjoy your delicious fried boiled eggs