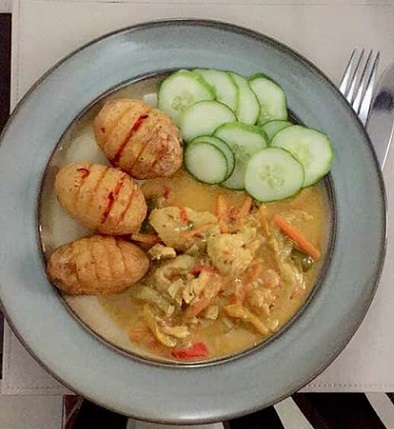 Low calorie breakfast recipe is just another way to start your day with fewer calories though healthy at the same time, a low carb food that still gives enough energy to overcome the day's task.
There is this saying "Breakfast happens to be the most important meal of the day". So, eaten a low Cal low carb breakfast is far better than not having breakfast at all.
Moreover, there are days you don't really want to have a heavy breakfast, so this is just one of the days we are talking about, a simple less calorie breakfast that is filling is the right kind of recipe.
The baked potato with jacket or the jacket potato is very easy to cook and when served with toppings is quite filling and delicious, you will be satisfied with the little quantity served.
How to Cook Low Calorie Breakfast
Ingredients
3 medium-size potatoes
1 tablespoon vegetable oil
Baked Potato Toppings
Garnish your baked jacket potatoes with a range of unique fillings so experimental.
Instructions on How to make a baked jacket potato
First and foremost, wash the potatoes properly, after that, dry with a kitchen towel or allow drying on the sieve.
Secondly, prick the skins of the potato using a fork, then rub the oil all over the potatoes and sprinkle salt on it.
Thirdly, preheat the oven at 180C, thereafter, place the potatoes at the middle of the oven and bake for about 1 hour – 1 ½ hour until the skin is crispy, or use a skewer/knife and pears to ensure proper doneness before removing from heat.
Finally, when ready to serve, place potatoes on the plate and add in the toppings of slices of cucumber, Turmeric sauce or Beef sauce at this point food is ready.
Serve and enjoy your jacket potato recipe.
Note!
Prefect weight loss meal
This low calorie-breakfast is perfect for those on weight loss diet; it is a good weight loss food which is equally healthy since it enables the individual cut down on high-calorie food likewise controls the excessive consumption of carbohydrate food.