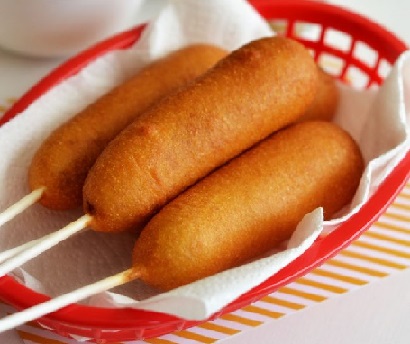 Homemade Corn Dogs – How to Make Corn Dog Recipe | Corndog
Homemade corn dogs are tasty snack of hotdog finely dipped in cornmeal mix with flour batter and deep-fried into a beautiful brown color. It can also be called a perfect snack -on-stick.
I usually love that aspect of grabbing a corn dog skewer in carnivals as I enjoy all the activities taking place in that carnival. However, it's one of the favorite snacks you find in a closed-door party (In house party).
Basically, corn dogs are so easy to make, it can be done within a couple of minutes at home. Ever since I learned how to make this simple and quick recipe of corn dogs; I love giving my family and friends a treat to a Mini corn dog recipe or Southern corn dog recipe it tastes just great.
Similarly, you can make a delicious homemade corn dogs without cornmeal by using only flour just like making a pancake mixture; the taste is still awesome!
How to Make Homemade Corn Dog Recipe
Ingredients
6-8 pieces of hut dogs
1 cup of cornmeal or corn flour
1/2 cup of all-purpose flour
1 tablespoon sugar
1/4 teaspoon salt
2 tablespoons baking powder
1 egg
1/4 teaspoon nutmeg (optional)
1/2 cup of milk
8 wooden skewers
Vegetable oil for frying
Directions for Corndog Recipe
First and foremost, in a bowl combine the cornmeal, sugar, flour, salt, baking powder, and nutmeg though nutmeg is optional; stir properly to mix.
Secondly, add your milk and egg into the cornmeal, flour mixture, and whisk all ingredients together as the consistency forms a smooth batter; keep aside and allow resting for about 5-10 minutes.
Next is to thread your hot dogs on wooden skewers (preferably the wooden Popsicle sticks) the plastic sticks might melt when frying.
In a skillet pan or frying pan heat your vegetable oil on medium heat.
Stir the batter, in other to make it easier; transfer the batter into a drinking glass cup. You can now dip the hot dog into the glass cup and then pull out from batter; this method helps give a uniform coating to the hotdog.
Finally, drop the coated hotdog into the hot oil and fry until color turns golden brown, flip to the other side, and fry. Ensure all sides are properly fried, and then remove from heat into a sieve lined with a paper towel. The frying process should be done in batches until all threaded hotdogs are exhausted.
Serve with Mustard