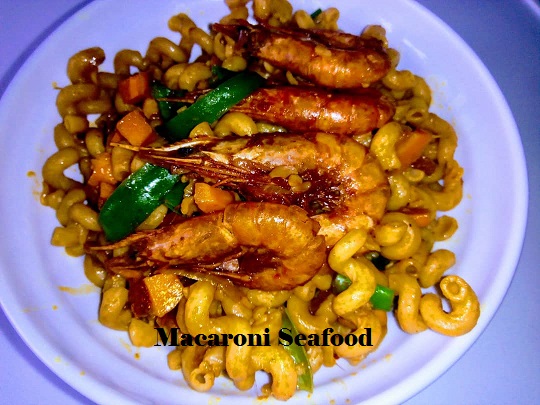 Spicy macaroni recipe cooked with seafood is looking really appetizing and so delicious, a healthy recipe of vegetables and seafood used in garnishing this dish.
Easy macaroni recipe without cheese is sweet and very easy to make at home likewise, homemade mac and cheese recipe
Macaroni is like spaghetti, you can also make macaroni Jollof with this pasta noodles then garnish with prawn seafood, beef, chicken, or turkey as a side dish.
In Nigeria, macaroni is a staple food, and there are different types of macaroni pasta with different shapes and designs.
Is macaroni pasta healthy?
Macaroni is healthy meals when eaten in moderate quantity; include plenty of vegetables and protein that will transform your food into a well-balanced meal when eating.
However, you can go for whole-grain pasta since it contains low carb and calories with high nutrients and fiber especially for those on a weight loss program.
How to Cook Macaroni Recipe
Ingredients
1 pack of macaroni
8 pieces of prawn
1 small-size tin tomatoes
1 large onion
4 medium-size fresh tomatoes
2 cooking spoons of vegetable oil
2 teaspoons crayfish
½ teaspoon curry and thyme
½ teaspoon turmeric spice
1 teaspoon pepper
4 medium-size carrots
1 large green pepper
½ cup green peas
2 seasoning cubes
Salt to taste
Instructions on how to make macaroni recipe
The first step, wash and slice your tomatoes, green bell pepper, onion, green peas, and carrot separately on different plates, wash and clean the prawn then keep aside.
Secondly, parboil your macaroni for like 5 minutes, remove from heat, sprinkle cold water on it, then rinse and keep in a sieve to drain.
Thirdly, pour in the vegetable oil into a pot allow to heat, fry the prawn until golden color after that, remove from oil, stir in the chopped onions and fry for 2 minutes, stir in the fresh tomatoes and stir fry before adding tin tomatoes.
Next step, fry tomatoes to dry, then add pepper, seasoning cubes, turmeric spice, crayfish, curry, thyme, salt, and little water into the sauce.
Finally, cover pot, allow boiling thereafter, pour in the macaroni into the tomato sauce mix properly, cover and cook for 15-20 minutes,
When the water is almost dry make a hole at the center of the macaroni and pour in the sliced carrots, green peas, and green pepper cover to steam for 3 minutes on low heat.
At this point macaroni pasta recipe is ready stir and mix all ingredients together, food is ready.
Serve and enjoy!