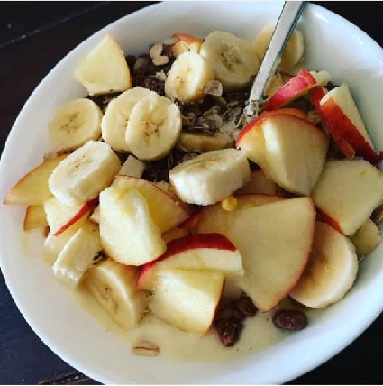 Oatmeal with fruit and nuts enables you to kick start your day with the right breakfast food and lose weight using the right diet.
When you start your day with a healthy diet, you will be active throughout the day. If you are looking for a healthy and tasty breakfast option, you will enjoy this bowl of Oatmeal, nuts, and fruit breakfast for weight loss. This bowl filled with healthy fiber will make your day; it will keep you energized all day!
Basically, eating a healthy breakfast will make it easier to suppress cravings and enable you to reach your weight loss goals.
Oats are very tasty and when eaten with healthy ingredients like fresh fruits and nuts, it becomes your perfect breakfast food. This recipe is great for those who want to lose weight. Oatmeal takes a longer time to digest as it prevents craving. It helps eliminate the habit of unhealthy eating and overfeeding with junk.
Moreover, adhering to a strict weight loss diet does not end with a healthy breakfast alone. But rather fill your diet with some nutritious whole foods all through the day to help you optimize your health (healthy living) and lose weight quickly.
Read Also >>>> Muesli and Yogurt
Importance of Oatmeal for Breakfast
Oatmeal is a great breakfast choice that is high in fiber, which will keep you full for longer, preventing overeating and reduce appetite. On the other hand, some often wonder what to eat with Oat? However, adding fruits to Oatmeal increases the nutritional value, likewise almonds for breakfast.
Dried fruit in Oatmeal is good but you can as well add frozen fruit in Oatmeal and they all taste great.
What time is best to eat breakfast to lose weight?
The best time to serve breakfast is between 7 and 9 a.m. or two hours after waking up. A high protein breakfast is perfect for weight loss because it reduces the risk of body fat accumulation and high protein diet makes you feel full all through the day.
Healthy breakfast foods that will help you lose weight.
Eggs. They are rich in protein, vitamins, and minerals, like riboflavin and selenium, eggs are packload of nutrition.
Flaxseeds
Wheat Germ
Chia Seeds
Bananas
Oatmeal
Green Tea
Yogurt
Kiwis
Smoothies
Nuts
Berries
Grapefruits
Coffee
How to Make Healthy Oatmeal with Fruit Breakfast Meal for Weight Loss
Ingredients
1 cup of rolled oats
1/2 cup milk (Greek yogurt unsweetened )
Honey or maple syrup (optional)
1 banana
1fresh apple
Handful of groundnut (roasted peanut)
2 tablespoons hazelnut
handful of cashew nut
Handful of dried fruit (optional)
Method of Preparing Oatmeal Diet Recipe
First and foremost, wash and dice all fresh fruits and set aside
Secondly, in a bowl, pour in your Oats and milk, and add a little quantity of water if you don't have enough milk to soak your oat for 1-2 hours before eating. It popularly called make-ahead Oatmeal and fruit recipe.
Thirdly, when you are ready to eat, serve with Oatmeal toppings of banana, apple, groundnut, cashew nut, dried fruits, and finally dress with honey or maple syrup.
Serve and enjoy your breakfast.