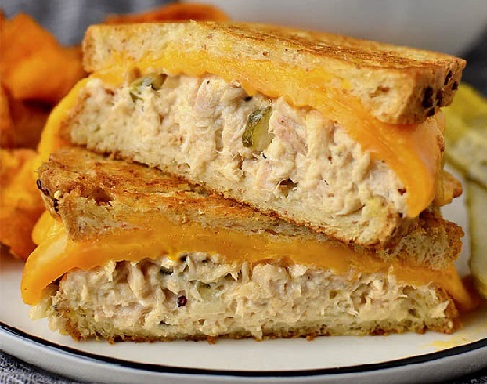 A perfect day starts with a delicious tuna melt sandwich on your plate! I hope you agree to that? Good breakfast food on the go that's equally healthy.
Tuna melt sandwich is a salad mixture of some vegetables with cheese and tuna fish splashed in between two slices of bread as it forms layers and heated to melt. Basically, a melted tuna fish sandwich is known to be hot and can either be a closed faced sandwich with layers or open-faced tuna melt dish.
Best cheese tuna melt recipe is so easy to make, why not join me in making this recipe for your family, you will love it.
How Healthy Is Tuna Sandwich?
Tuna is low in calories and fat, rich in protein and a very good source of vitamins and minerals that are required in the body for growth as well as maintain muscle mass. It is also rich in omega-3 fatty acids a heart-healthy food.
Moreover, tuna sandwiches can only be as healthy as the fresh ingredients used in making it.
In other words, tuna sandwich is a perfect meal for those on a weight loss diet based on lean protein preference. Similarly, adding mayonnaise will finitely increase the calorie intake, thereby making it fatty food.
How to Make Tuna Melt Sandwich
Ingredients
1 canned tuna drain water out (Starkist or Wild Planet)
2 slices cheddar cheese
4 slices bread
1 teaspoon Butter
4 slices fresh tomatoes (Optional)
4 tablespoons mayonnaise
2-3 pickles spears finely minced (or cucumber)
¼ teaspoon steak seasoning (Optional) or salt
¼ tablespoon chili pepper (Optional)
2 slices red onion (optional)
Method of Preparations
First of all, preheat the oven while you continue with the tuna mixture
Secondly, in a deep bowl, combine tuna, mayonnaise, pickles spear, seasoning, and chili pepper together to form salad mixture.
Thirdly, butter only 2 slices of bread, thereafter, lightly grease your baking sheet.
Finally, place the plain bread on your baking sheet and spread your tuna salad on each of the bread, then place the cheese on top of the tuna mixture to form another layer followed slices of onion and tomatoes though these two are optional.
Lastly, cover with the buttered bread and bake in the oven for about 2-4 minutes as the cheese melt and bread turns golden brown.
Serve and enjoy!