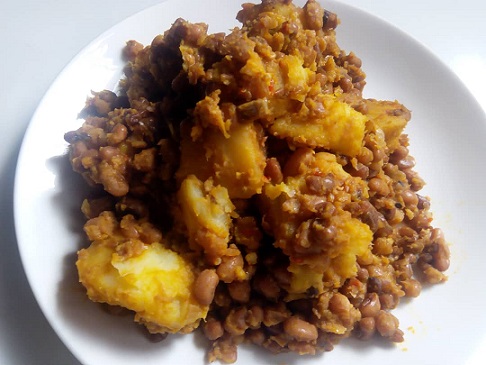 Beans and potato porridge recipe is a healthy and nutritious dish. Sweet potatoes are naturally sweet, so, when properly combined with beans it yummy and delicious.
Pottage beans with sweet potato is a popular Nigerian food that is enjoyed by virtually everyone. Although some people don't really like beans that much, they always have complain like indigestion, bloating, and the likes that prevent them from eating beans just like other regular meals.
Beans as legumes and is usually available in dry form, frozen and canned. Beans are rich in protein which is a very important nutrient required for maintaining and repairing the body. It also a good source of fiber, vitamins, potassium, iron, and folate.
Eating beans helps control appetite, lowers the risk of coronary heart disease, reduce LDL (bad) cholesterol, Glucose metabolism, and diabetes, and helps prevent fatty livers and perfect diabetic food. Experts advise you should consume up to 3 or more cups of legumes in a week not minding the fact it makes some people gassy.
Sweet Potatoes are edible tubers with lots of health benefits which include; fiber, potassium, vitamin B6, vitamin C, magnesium, and manganese. Good source of beta-Carotene that converts to vitamin A and vitamin A supports healthy vision, enhance brain function, and boost our immune system.
Homemade beans and potato porridge are not so difficult to cook and be enjoyed by the entire family especially the kids because they will always ask for more. There are different ways of cooking this delicacy like fried potatoes and porridge beans with vegetable, beans porridge and fish with fried potatoes, or only potato porridge.
How to Cook Beans and Potato Porridge (Pottage) Recipe
Ingredients
2 ½ cups of beans (Brown or white beans)
4 medium-sizes of sweet potatoes
½ cup of palm oil
1 large onion
2 tablespoons of ground Crayfish
1 tsp. ground pepper
2 seasoning cubes
Salt to taste
½ cup sliced Vegetables -Ugu leaf (optional)
Directions
First and foremost, pick dirt and wash the beans. Cook for about 5-6 minutes and drain the water if you like, it's optional based on the chemical used in preserving the beans. On the other hand, some believe it helps reduce gas.
Secondly, wash and slice the onions. However, boil your beans with little quantity of salt and some slices of onions then cook to soften.
Thirdly, peel your sweet potatoes and dice into cubes wash, then keep aside.
Finally, add in all ingredients except veg if any. Start with the diced sweet potatoes, crayfish, pepper, onions, seasoning cubes, palm oil, and salt to taste, and then add little water. Cook for 7-10 minutes.
Ensure the potatoes are soft and the water is almost dry, stir the whole food to mix properly and taste salt before removing from heat.
Add your vegetables if any and stir then cover allowing the heat to penetrate into the veg.
Your delicious sweet potato and beans is ready.
Serve and enjoy!