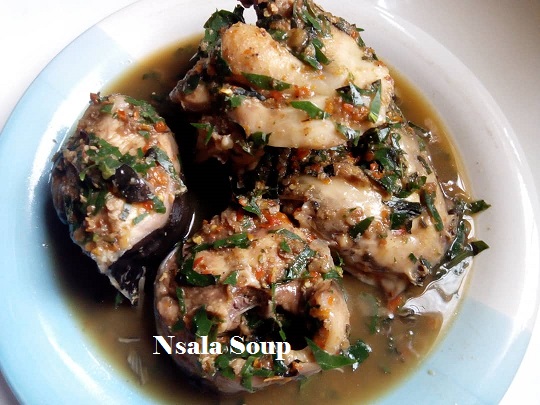 Nsala soup popularly called white soup in Nigeria is a very delicious delicacy that is very easy to prepare at home when running out of time on what to serve for dinner.
Ofe Nsala Azu Ndu is a traditional soup eaten mainly by the Igbo's and some parts of south-south region in Nigeria. Nsala soup and pregnancy are inseparable, during pregnancy and after delivery, the women always look forward to this soup served with Pounded Yam or Fufu.
The Calabar white soup is similar to Nsala with a slight difference in spices like uyayak added when making Efik white soup style called Afia Efere soup.
However, there are several ways on how to cook Nsala soup either with goat meat, chicken, assorted beef, or catfish. It's a healthy food with great benefits.
Meanwhile, an original white soup with its unique color that is derived as a result of no palm oil required to make this special dish.
How to cook Nsala Soup with Catfish
Moreover, this white soup is cooked with catfish though you can also cook with meat the choice is yours, so decide how best you want the soup.
In cooking white soup, thickener is very important, some prefer using pounded yam, cocoyam flour, but for this mouthwatering dish you can see how I cooked my white soup with Achi as a thickener
Ingredients
1 medium-size catfish
2 tablespoons of grounded Achi
2 tablespoons of crayfish
½ teaspoon Uziza seed powder
2-3 pieces of Utazi leaf (optional)
6 pieces scotch bonnet pepper (Atarodo)
1 handful fresh Uziza Leaf (finely sliced)
2 seasoning cubes
1 teaspoon Ogiri okpei (locust beans)
Salt to taste
Method of preparing white soup with Achi
First of all, wash the fish thoroughly, place in a pot and keep aside, since we are using fresh fish and achi to cook ensure all other ingredients are ready before you start cooking.
Secondly, wash and slice the Uziza leaves and Utazi leaf respectively, after that grind the pepper and crayfish set aside.
Thirdly, pour in 3 cups of water into the pot cover and place on the stovetop, thereafter; add your crayfish, pepper, seasoning cubes, ogiri okpei, and salt to taste and cook for 7 minutes.
Finally, dissolve the achi with little quantity of water in a cup, after that pour it into the soup pot, stir and cover, then allow cooking for another 15 minutes, at this point the soup water is thicker and the fish is well cooked since it doesn't take time to cook.
Lastly, sprinkle the sliced vegetables into the soup, stir and remove from heat, allow simmering for 2 minutes before dishing out.
Serve and enjoy with favorite swallow!