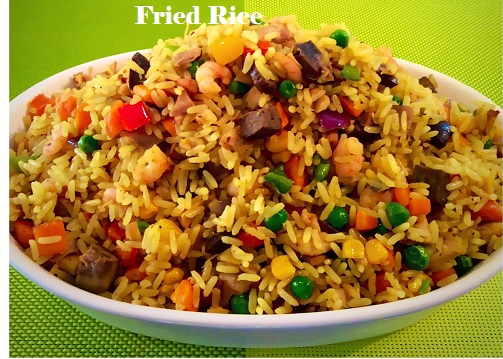 Best Chicken Fried Rice Recipe – How to Make chicken Fried Rice at Home | Nigerian Chicken Fried Rice
Best chicken fried rice is a tasty delicacy, and a classic dish that is easy to cook and enjoy as lunch or dinner.
Chicken fried rice is a Chinese comfort dish likewise a popular Asian cuisines.
Spicy chicken fried rice for the weekend is one of the best meals for the family; a protein-packed chicken and brown rice combined with vegetables is considered a very healthy diet.
However, if you don't want chicken, simply make fried rice with shrimps, while vegetarians cook with pineapple and cashew.
Chinese stir fry rice is usually cooked with scrambled eggs, veggies, and chicken. Ham or shrimps are mixed together as it becomes tasty fried rice with egg; which can be served as main course meal or side dish.
Moreover, leftover rice can easily be transformed into fried rice and chicken, chicken stir-fried rice or Japanese fried rice recipe of all time using fresh veggies like carrots, bell pepper.
In Nigeria, chicken fried rice is a special dish usually served in parties, weddings, occasions and events, a top delicacy in restaurants menu and some Buka food outlets.
Chicken Fried Rice Near Me
There are lots of eateries and fast food outlet near me where you can easily buy fried rice and chicken in the likes of the following
Tastee Fried Chicken
Sweet Sensation
Chicken Republic
Kentucky Fried Chicken (KFC)
How to Cook Best Chicken fried Rice Step-By-Step Guide            
Let us look at how to cook fried rice at home with a step by step guide using complete ingredients for fried rice and chicken.
Ingredients for Chicken Fried Rice
3 cups of rice
1 whole chicken cut into parts
3 carrots chopped
½ cup green pea
1 cup sweet corn
2 cups of chicken stock
1 cup diced chicken
½ cup diced cow liver/kidney
1 large-size Green bell pepper
1 teaspoon garlic powder
½ tablespoon thyme
1 tablespoon curry powder
3 cooking spoons vegetable oil
2 chicken Knorr seasoning cubes
½ cup shrimps (optional)
1 large-size onion
Salt to taste
Method of preparing Chicken Fried Rice
First of all, wash all vegetables properly dice and set aside for later use, after that, wash and clean the chicken, place in a pot, spiced with curry, thyme, sliced onions, garlic, Knorr seasoning cubes, add water and cook to tender, sieve out the stock.
Secondly, wash and parboil your rice, after parboiling, pour in the chicken stock into the already parboiled rice and cook until water is dried and almost soft but not completely soft.
Thirdly, preheat the oil, stir in the onions and stir fry for few minutes, add the liver and diced chicken and continue to stir fry, add the carrots, bell pepper, sweet corn, Knorr cube, salt to taste, and lastly stir in the shrimps and fry for another 2 minutes.
Finally, remove from heat, share into 3 or 4 equal places to be used in frying the already cooked rice in batches with the veggies.  
Next step is to stir in the first batch into the woks or frying pan containing the fried veggies and continue to stir fry till the rice dries up and all ingredients well combined with the rice, remove into a food warmer and repeat the process for the second batch until the fourth is batch finished.
At this point, our delicious healthy chicken fried rice is ready to be served
Serve and enjoy the best chicken fried rice recipe!