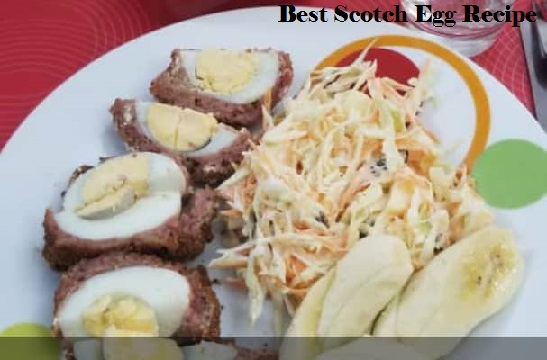 Best Scotch egg recipe is a yummy snack made with boiled egg wrapped with sausage meat, coated with whisk egg and breadcrumbs before, deep-fried into a golden brown crispy surface as the meat cooked properly.
Scotch egg burger is an ideal meal or snack for both adults and children, especially for kids who are reluctant to eat just egg.
Fried Scotch egg recipe is a tricky way to help kids enjoy egg while still having a flavorful experience.
However, when a homemade traditional Scotch egg is served with a drink, then it is a delightful experience, scotch eggs are not just a proteinous gourmet, but also appetizing when served with salad which makes it good food and as well as a healthy breakfast diet.
Read Also:https://besthomediet.com/homemade-cinnamon-rolls/
How to Make Best Scotch Egg Recipe
Ingredients
4 eggs (hard-boiled)
250g minced sausage meat
½ cup of plain flour
½ seasoning cube
Pinch of nutmeg
2 raw eggs (whisk)
1 cup of breadcrumbs
Vegetable oil for frying
Pinch of salt
½ teaspoon black pepper
Nigerian Scotch Egg Preparation
First of all, boil the eggs, thereafter, peel the shell and place in a clean plate and keep aside.
Secondly, crack the raw eggs into a bowl whisk and set aside, in another plate pour out the flour also.
Thirdly, in a bowl, add the sausage meat, seasoning cube, black pepper, nutmeg, and salt. Mix all these Scotch egg ingredients together and divide into 4 equal balls.
Next step is to take each ball of mix meat in your palm and flatten it. After that, take 1 boiled egg and roll it on the plain flour before placing it on the already flatten meat on your palm.
Is time to cover the egg with the meat using your palm to mold until covered, ensure it's well sealed with the mix sausage meat.
Deep the wrapped egg in the flour, remove and transfer to whisk egg and finally to the plate of breadcrumbs and gently roll the egg inside it until well coated with breadcrumbs. Repeat the process for a perfect coating.
In a frying pan, heat the veg oil and carefully place the scotch eggs in the pan and fry for about 5 minutes for both sides until golden brown color which is a prove of doneness.
In conclusion, remove from the fire into a sieve or place in a paper towel and allow draining before serving.
Serve with salad and enjoy.