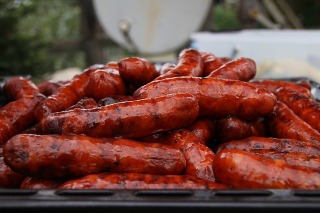 Breakfast Sausage Links in Air Fryer -Air Fryer Breakfast Sausage Links Recipe – How to Cook Air Fryer Sausages
For busy mornings, these air fryer breakfast sausage links are indeed a quick and easy way to have breakfast ready. This simple dish is also low-carb, gluten-free, and keto-friendly.
In the morning, you can eat a filling protein-based meal like Sausage links. When you love sausage at breakfast, you can cook breakfast sausages using an air fryer instead of frying pan.
Sausage links and patties both fresh and frozen sausage may both be cooked in the air fryer into a delicious recipe.
Unlike using a frying pan, making sausages in the air fryer requires no supervision, so you shouldn't worry about it burning on the stovetop. This is by far the greatest and simplest method for making sausages.
How Long Do Frozen Breakfast Sausages Take to Cook?
There's no need to worry if the sausage links are frozen. Cook for 12 minutes after breaking them apart if possible.
The internal temperature of breakfast sausages should be 160 degrees Fahrenheit. They should be cooked until no longer pink inside if you don't have a thermometer.
However, if you want your sausage more crispy or dark, simply increase the cooking time by some minutes. It's quite simple to have the sausages just how you prefer them!
Why Does This Air Fryer Sausages Recipe Work?
You can walk away after putting the sausage in air fryer.
Because the sausages are brown on both sides, there is no need to turn them.
Breakfast is ready in under 15 minutes!
This technique may be used with chicken, pork, or even frozen sausages.
What types of sausage can I make in the air fryer?
Cooking all types of sausage and bacon franks in the air fryer is simple! Any sausage link will serve, including brats, kielbasa, and even sausage patties, and the type of sausage is irrelevant. That is, whether it is pork, chicken, or beef.
Why Sausages Are Refers to as Links?
Because of the way sausages are wrapped during manufacture, they are referred to as links. Sausages are usually wrapped in a single long casing or skin. The sausages are then connected together by twisting or tying up each end of the sausage to separate one from the next. The sausage casing is commonly manufactured from collagen-based synthetic materials.
Are Sausage Links Already Cooked?
Sausages are available in two forms: cooked and uncooked. Cooked sausages are ready to eat and are available in three varieties: dry, partially dry, and cooked. To preserve semi-dry sausages, they are frequently cooked fully and partially dried. If the sausage is cooked or has to be prepared before eating, it will be stated on the label.
How Do I Know When The Sausages Are Ready?
Cook the sausages until the outsides are thoroughly browned. You may cut into one to ensure that the interior is properly cooked.
When you cut or bite into sausage, there should be no pink on the interior. Cook it for a few more minutes if it's still pink.
Is It Necessary To Spray The Basket First?
No. When I cooked the sausage links, they came straight out of the basket, and the cleanup flow smoothly!
How to Cook Breakfast Sausage Links in the Air Fryer
Equipment
Ingredients
Instructions on How to Cook Breakfast Sausage Links in the Air Fryer
Preheat the air fryer to a temperature of 370 degrees Fahrenheit.
Take the sausage links out of the package and split them apart.
Without stacking the links, place them in the air fryer basket.
Cook for 12-15 minutes at 370 degrees F, depending on crispiness desired.
Checkout other Air Fryer Recipes