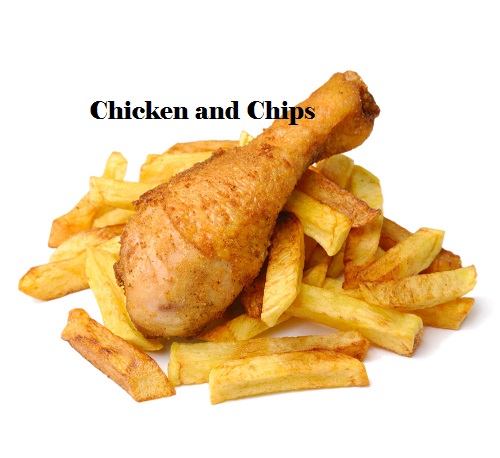 Chicken and chips recipe is a delicious and healthy meal, fast and easy to cook food by making French fries potato chips and a well barbecued, grilled, roasted or fried chicken. How do you like your chicken and chips?
In Nigerian lots of restaurants, fast food joints, and eateries now include spicy fried chicken and chips in their food menu, which is equally a top served delicacy in Nigerian parties.
Chips and chicken is an all-round dish that can be eaten for breakfast, lunch, dinner, or served as dessert.
However, when you talk of chicken and chips business in Nigeria, KFC is one of such businesses, lots of food vendors now include this recipe in their menu in other to make more money and increase their profit margin.
Make it a Sunday special this weekend for family and friends, the kids will enjoy it more because it's one of their favorite food. 
chicken and chips snacks
This fast food made easy can be altered and be eaten alone as potato chips or chicken chips.
Similarly, roasted chicken dairy free no corn and potato can also be prepared using sea salt, jalapeno to spice up flavors of great Buffalo chicken and chicken waffles.
Chicken and chips Near Me
There are so many chips and chicken fast food eateries around the city like
KFC
Chicken Republic
Tastee Fried Chicken
Mega Chicken
What to have with chicken and chips?
Chicken and chips menu, sometimes one term to consider what goes with fried chips and chicken. Well, its best served with tomato ketchup, tomato sauce, salad, and green leafy veggies. Moreover, this food combination is highly consumed in the UK is their favorite recipe.
How to Make Fried Chicken and Chips Recipe
Homemade crispy chicken skin and French fries dish are healthy and nutritious as well, very easy to cook.
Ingredient for Potato Chips
Potatoes
Pepper
Salt
Garlic powder (optional)
Vegetable oil for frying
How to make chips
First of all, peel the Irish potatoes skin, after that, cut into thin slice, in a deep bowl soak in ice water with salt for like 20-25 minutes.
Secondly, sieve out the water and allow draining in a sieve, using another smaller bowl mix your garlic powder and pepper, then set aside.
Thirdly, heat the vegetable oil in a frying pan, stir in the sliced potatoes and fry to dry and color turn slightly golden.
Finally, remove from the stove into a sieve lined with a paper towel, sprinkle the pepper and garlic mixture and keep aside.
Ingredients for chicken
Chicken
Onion
Flour
Garlic onion
Ground pepper
Salt to taste
Seasoning
Vegetable oil
How to Grill/Fry chicken
Step one, in a bowl or pot, pour in the chicken and wash thoroughly, after that, mix your pepper, salt, seasoning, garlic powder, onions and marinate the chicken.
Place your chicken in a pot and cover, then move to fire and cook to tender
At this point, the chicken is well-cooked remove from heat, sieve/drain the stock
In a different bowl, mix flour and chicken together
Thereafter, in a frying pan heat the vegetable oil and deep fry your chicken until golden brown
Lastly, remove from heat, transfer into a sieve and allow draining.
Serve and enjoy your fried chicken and chips!