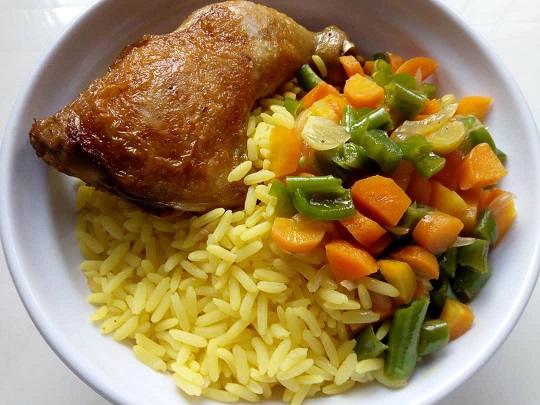 Chicken and yellow rice recipe is a simple and classic dish. Yellow rice garnished with vegetables and baked chicken thighs are kinds of cuisine served in most top restaurants.
Spanish chicken and yellow rice with peas is a delicious meal that is perfect for lunch and dinner; moreover, yellow rice recipe is a popular dish in Indian, South Africa, Caribbean, Middle East, and several other countries.
These beautiful yellow color in rice is gotten from saffron or turmeric spices, saffron is one of the most expensive spice so, in most cases, people go for turmeric spices, they are all healthy with lots of nutritional health benefits.
Yellow rice recipe is usually cooked with white rice, brown rice, or Basmati rice, very easy to prepare at home, gluten free and perfect Vegan dish when you stick to vegetable stock while cooking.
You can certainly change the family's usual rice and stew recipe into classic cuisines of tasty yellow rice served with a yummy protein side dish as an accompaniment, who wouldn't love such a combination of good food.
How to Make Nigerian Chicken and Yellow Rice Recipe
Ingredients
4 pieces of chicken thighs or breast
2 cups of white rice (Brown rice, or Basmati rice)
½ teaspoon turmeric powder
2 medium-sizes onion (sliced)
1 teaspoon garlic (minced)
½ teaspoon ginger minced
1 teaspoon chili pepper
½ cup of vegetable oil
2 Knorr cubes
½ teaspoon curry powder and thyme
Salt to taste
4 medium-size carrots (chopped)
½ cup green peas (dice)
Method of preparation
The first step, wash and parboil your white rice, after that, rinse and allow to drain in a sieve, for basmati and brown rice you don't need to be parboiled rather wash and rinse only.
Secondly, wash the chicken place in a pot, add spices curry, thyme, Knorr cube, ginger, garlic, onions, salt, and water cook to tender, thereafter, transfer to a sieve and fry to brown.
Thirdly, in a pot, add 4 tablespoons of vegetable oil heat and stir in your onions, stir fry and add garlic, ginger stir for 2 minutes.
Pour in the chicken stock, chili pepper, turmeric, curry, Knorr cubes, and salt to taste with little water and allow boiling.
Finally, add the already parboiled rice mix properly so, that the ingredients combine well with the rice and cook until the water is completely dry.
In a frying pan heat 2 tablespoons of oil, pour in your onion stir fry and add in carrots, green peas and 4 spoons chicken stock (water) taste salt because there is enough spices in the stock already boil for 2-3 minutes and remove from heat.
Yummy and delicious Yellow rice with chicken is ready.
Serve and enjoy!