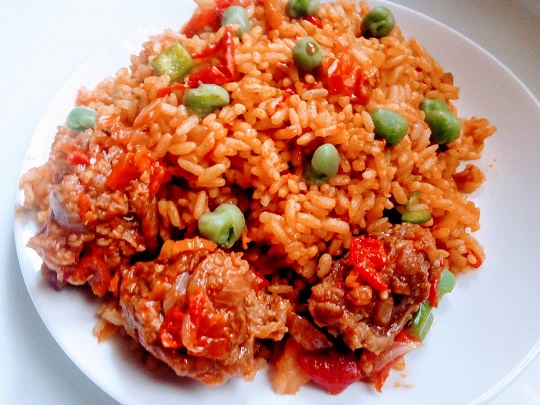 Nigerian Jollof rice with peas is usually very spicy and delicious; Jollof rice is a very popular one-pot dish in West African with a combination of spices that make it a mouth-watering delicacy.
Spicy Jollof is basically a classic rice dish cooked in a tomato-based sauce and garnished with carrot, peas, and green beans served either with chicken, turkey, fish, or beef.
However, there is no right or wrong way of cooking this food, be rest assured you can never go wrong with preparing this delicacy of all time, simply adhere to the instruction below as you cook.
Homemade Jollof rice is very easy to cook for the family; on the other hand, Jollof is a regular food served in parties, occasions, and events.
How to Make Spicy Jollof with Green Peas
Ingredients
4 cups of rice (Parboiled rice, Basmati)
1 kg beef
2 Sachets/ small cans tin tomato paste
1 large onion (sliced)
4 medium-size fresh tomatoes
6 scotch bonnet pepper (Ata-rodo)
2 tablespoons ground crayfish
1 teaspoon each (curry, thyme, nutmeg)
4 bay leaves
1 teaspoon black pepper
1 can of green peas
3 seasoning cubes
1 sachet Onga stew spice
Salt to taste
4 cooking spoons veg oil
Directions
First and foremost, wash and parboil your rice, rinse and keep on the sieve.
Secondly, wash and spice the meat with curry, thyme, onions, seasoning cube, and salt. Add water and cook until soften.
Thirdly, slice your fresh tomatoes, in a pot heat the vegetable oil stir in the onions stir fry and add fresh tomatoes, bonnet pepper and fry for few minutes. Stir in the tin tomatoes, continue frying until the paste is dry and sticks to the pot.
Fourthly, add in the beef stock, curry, thyme, crayfish, nutmeg, black pepper, seasoning cubes, Onga stew spice, salt, and little quantity of water.
Finally, boil the tomato sauce/stew, after that, pour in the rice stir to mix with the tomato stew, taste for salt, and place the beef at the top cover and cook until water is completely dry and slightly burnt at the bottom of the pot.
In addition, remove from heat, stir to mix and remove the bay leaves, thereafter, sprinkle your green peas at the top.
Serve and sprinkle more peas on your rice and enjoy your meal.