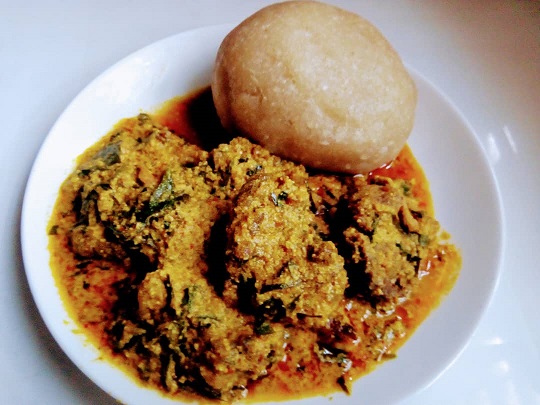 Delicious Fried Egusi Soup tastes good with a sweet aroma that comes out of the fried melon seed; it's tasty and appetizing to the eyes too. What a mouth-watering dish that cannot be resisted except you're not a lover of egusi dish.
Nigerian fried Egusi Soup Recipe is a ground melon seed used as thickener with leafy vegetables, meat, fish and other soup ingredients, and often eaten with swallows like Pounded yam, Semolina, Fufu, Garri, Tuwo chinkafa, and Amala.
Homemade fried egusi soup with tomatoes is so easy to cook; moreover, it can either be prepared with tin tomato paste or fresh tomatoes. The choice is yours and depends on how you want to cook the soup, just ensure you don't burn the egusi when frying it.
However, Egusi is the name of the seeds of plants such as melon, gourds, and squash, after drying and grounding it becomes the main ingredient in most West African dishes. Certainly, in Nigeria, parties are not complete without egusi soup, is a popular soup in every food outlet and restaurants.
There are different ways of making egusi dish; some individuals make egusi without frying that is the boiling method with waterleaf. This recipe is to educate us on how you can make this simple dish of fried egusi with Uziza leaf.
How to make Fried Egusi Soup with Uziza Leaf
Ingredients for Egusi Soup
2 cups melon seeds (finely ground egusi)
1 kg beef (Cow meat, Goat meat, Chicken)
1 sachet Onga classic
Kpomo (kanda cow skin) optional
1 medium-size onion (slice)
Stock fish
Dry Fish
3 cooking spoons palm oil
2 teaspoons ground crayfish
1 teaspoon ground dry pepper
2 seasoning cubes
1 cup Uziza leaves (finely sliced)
½ teaspoon ogiri opkei(Iru, Dawadawa)
Salt to taste
Directions
First of all, wash the meat, spice with Onga seasoning, onions, and salt, thereafter, add water and boil for 30 minutes.
Secondly, wash your stockfish and add as you continue to boil the meat and stockfish for another 10-15 minutes. Wish the dry fish and add with little water.
Thirdly, in a frying pan pour in your palm oil, place on the stovetop to heat for 30 seconds, add in the grounded egusi and start frying as you stir continuously, to avoid getting burnt until completely dry.
Finally, pour in the fried egusi into the meat pot add pepper, crayfish, Ogiri okpei, seasoning cubes, cover and cook for another 5 minutes, stir and taste for salt.
In conclusion add in your sliced Uziza leaves, stir and taste for salt allow cooking for the next 45 seconds and remove from heat.
Serve with choice swallow and enjoy your meal!