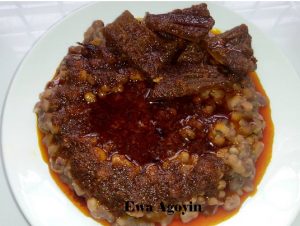 Agoyin sauce is fried palm oil with pepper and onion used in serving well-cooked and mashed beans popularly called ewa agoyin beans, a twisted style of beans recipe.
Authentic Ewa Agonyin and Agege bread is so delicious and quite filling which can also be paired with fried plantains or boiled yam, they are all wonderful combinations depending on what you prefer to eat with.
Ewa agoyin is a common street food in Lagos; it actually so peculiar among the Cotonou and Togo people, it's a regular food in the South West Region of Nigerian.
Moreover, Ewa agoyin in English actually means mashed beans and stew/sauce. However, Ewa means beans in Yoruba language while agoyin is the people in a certain area where the dish came from.
How to Cook Ewa Agoyin Recipe
How to cook ewa oloyin beans at home is so simple and easy, the moment the main ingredients for this recipe are available in your kitchen, go ahead and make that breakfast like no other.
Ewa Agoyin Ingredients
2 cups of beans (Red beans or black-eyed beans)
Salt to taste
4 tablespoons dry pepper seeds
1 ½ cups of palm oil
1 medium-size onion (finely sliced)
3 pieces of Cameroon pepper
4 pieces dry red bell pepper (Tatashe)
1 seasoning cube
Salt to taste
Method of preparation
First of all, pick the beans, wash and cook to tender not allowing the water to dry completely, use your wooden spatula (turning garri stick) and mash the cooked beans, then set aside.
Secondly, soak the dry pepper seeds for like 10-20 minutes, thereafter, wash all the peppers and blend to smooth.
Thirdly, pour in the palm oil into a pot and bleach for 3 minutes, as the color changes remove from heat allow cooling a bit before stirring in the sliced onions and return it back to the fire.
Finally, stir fry your onions for 30 seconds and pour in the blended pepper and fry on low heat, always stir the sauce consistently to avoid been burnt until its properly dried and slightly dark in color.
Lastly, add your seasoning cube and salt as the oil float over the fried dry pepper on the pot; at this point your yummy dish is ready.
Serve and enjoy with correct soft Agege bread, boiled yam or fried plantains!