Fried plantains is a delicious and tasty staple food that most families don't miss in the morning for breakfast; meanwhile, growing up a child, I and my siblings love eaten fried plantain round the clock.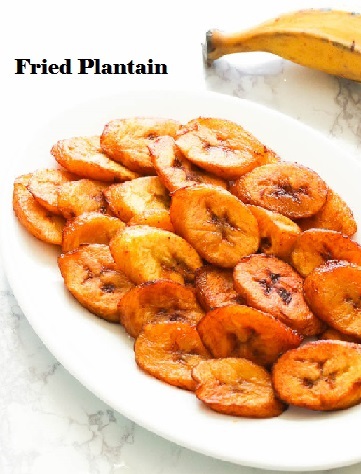 Fried plantains recipe are the original African food commonly called dodo in Nigeria is a top side dish recipe in restaurants, parties, and the likes, especially in most Nigerian mama put bukar outlets.
Dodo is certainly very easy to prepare in the same vein, it can be eating like a complete meal for breakfast, lunch or dinner, and it can equally be served as a side dish on the other hand as a healthy snack
Basically, fried plantain is a healthy diet with great health benefits, it contains vitamin A, B-6, C as well as potassium and magnesium minerals, ripe plantain automatically turns to carbohydrate while the unripe plantain is more of iron, and also contains fiber.
Is Fried Plantains Good for You?
Yes fried plantain is good for you on the basis of using the right kind of vegetable oil, naturally plantain health benefits are numerous to talk about, it's an immune booster, and similarly, it is also a brain booster, it is a good source of vitamins and mineral, carb, and fiber essential for optimal body function.
Most importantly, when frying your plantain endeavor to use noncholesterol oil in other to avoid building up cholesterol or probably increase the level of cholesterol thereby increasing the risk of heart disease, above all moderation is the key to all food on that note eat moderately.
Can Plantain be Eaten Raw?
YES and NO the answer to this question is a 2-way thing so don't get it twisted
YES, ripe plantain can be eaten raw; it is not harmful to the body system, however, raw ripe plantain taste sweet and nice, furthermore, lots of people don't even border frying their plantain because they love eating raw and ripe dodo.
NO unripe plantain cannot be eaten raw because it can cause diarrhea or stomach pain, it is highly acid on its unripe form, therefore don't even consider eaten raw unripe plantain, hence, cook, bake or fry before eating.
Fried Plantains Calories
Consequently, 1 serving size contains about 180 – 200 calories not considering the salt and oil used in frying, as e result of this nutrition fact it should be taken in a moderate proportion that is to say the calories are either high or low depending on the quantity consumed and oil used in frying.
Ingredients
2 medium size ripe plantains
2 cups vegetable oil
Salt to taste (optional)
Step-by-step on how to fry Plantain
First of all, wash and peel off the back after that slice into a bowl, sprinkle your salt and mix by tossing it, then ascertain it's properly mixed.
Secondly, get your frying pan; heat the frying pan for 1minute, ensure is try before pouring in the vegetable oil as and heat. In case you're using dip fryer it takes a longer time to heat so heat at 150 °C.
Thirdly, pour the sliced plantain into the heated oil, moderate quantity that the frying pan can take, at this point ensure you don't jam-pack the frying pan maybe you want to fry all at the same time which is not right.
Fry on a moderate heat so that it doesn't get burnt rather fry and allowing the plantain to turn golden as you quickly flip to the other side to fry and a uniform color is derived
Remove from oil into the sieve allowing the oil to drain.
Subsequently, fry the rest of the plantain in the same manner until they are all fried.
Finally, serve your fried plantain recipe and enjoy.
Fried plantains For easy breakfast serve with
Custard with milk
Pap, Akamu or Ogi baba
Fried egg
Tomato stew
For a light meal, bite or refreshment serve with
Chilled cold drink example soft drink, hibiscus drink (Zobo) or millet drink (Kunu)
Chicken stew
For a side dish serve with
Rice either jollof, fried, or white rice
Beans
Green bean casserole
Moi – moi