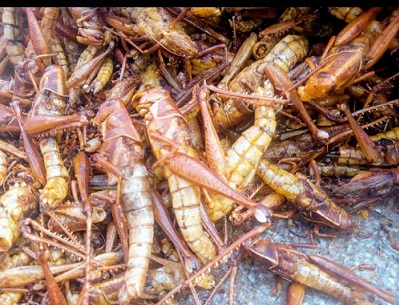 Fried grasshopper Recipe – Fried Insects | How to Fry Insects | Fried Fara | Edible insects
Grasshoppers are edible insects, spicy fried grasshopper taste more like crunchy prawn. Grasshoppers are popular snack called Fara in Hausa language in the Northern part of Nigeria.
This sought after spicy snack is usually served with suya spice (chili powder) as dipping it's quite tasty and delicious. On arguably some said it taste like a sardine but; I know is crunchy on the outside.
Fried grasshopper is also a popular cuisine in countries like Thailand, Mexico, Uganda, and Spain. Obviously, not everyone craves for this delicacy, some classify it as local food or snack. But to be honest, If you have not tasted hoppers; you're actually missing a lot.
They are a very good source of protein, polyunsaturated fatty acids, minerals, vitamins, and fiber. Protein as we all know is a major macronutrient needed in the human diet for survival and building blocks in the human body. Aside from water and fat, basically the human body is entirely made up of protein; and is the major component of muscles, organs, bones, nails, and skin.
Moreover, as the population increases persistently; the demand for protein has increased. So searching out other alternative sources of protein for consumption is quite necessary.  Eating grasshoppers came as a result of lack of protein back in the days in some countries. While some countries have excess of fats and cholesterols; certainly, they all need to balance their diet by including this locust into their meal.  
However, with the recent studies, the nutritive value of grasshoppers can be bioengineered for treatment of diabetes; arthritis, cancer, obesity, (HIV) Human Immunodeficiency Virus, malnutrition, wounds, and the likes.
How to Pan Fry Grasshoppers – Edible Insects
Ingredients
1 kg grasshoppers (chapulines)
Oil
Seasoning cube
Yaji spice (Chili powder spices)
Instructions on How to fry Grasshoppers –Fried Insects
First of all, clean up your grasshoppers, thereafter, pour boiled water into the hoppers; stir for some minutes, and drain into a sieve.
Secondly, heat your skillet pan; pour in the green locust and stir consistently until dry and no trace of water. Remove from heat and transfer into another dry bowl.
Finally, in a frying pan bring the oil to heat just little drop of oil. Stir in the hoppers and fry until color turns slightly brown; and the locust is dry and crunchy. At this point your spicy snack is ready.
Serve with Yaji chili spice and enjoy.
Note!
Grasshopper should be properly cooked before eating, there is often a tendency it may be hosting an unwanted parasite that may cause an allergic reaction if not well cooked.