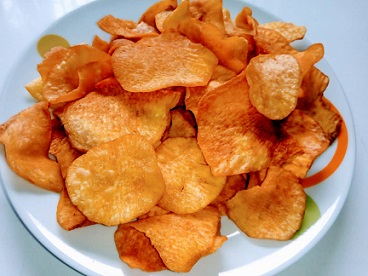 A crispy fried sweet potato chips is tasty and fun to eat. These thin slices of deep-fried potatoes are usually golden brown crunchy and flavorful when spice with some chili and onion powder.
Fried sweet potato chips recipe is a popular snack in Nigeria. Although some people avoid it because of it's crunchiness while others prefer the crispy nature of these snacks.
Kids ordinarily love chips, but with the sweetness in these chips, they will always want to have more for snacks.
Homemade pan-fried sweet potato fries are very easy to make and still maintain a low calories food when cooked with coconut oil or extra virgin Olive oil. The most common ways to cut sweet potato fries are wedges, round, and matchstick.
Aside from making chips with sweet potatoes, you can also cook some delicious dishes with it like, sweet potato porridge, fries, potato balls, sweet potato poundo for swallow with soup.
Health Benefit of Sweet Potatoes
Sweet potatoes are pack-load with lots of amazing health benefits. Sweet potatoes are a good source of vitamins and minerals, which include calcium, iron, and selenium. It's a great source of vitamin A that aids healthy vision, vitamin B helps enhance our brain functions and vitamin C help boost our immune system. So, a healthy sweet potatoes recipe is highly nutritious and equally rich in fiber.
Potatoes are classified as a healthy carbohydrate, however, sweet potatoes seem to have a lower glycemic index because of the high fiber content than white potatoes (Irish).
How to Make Fried Sweet Potato Chips Recipe
Ingredients for Fried Sweet Potato
2 medium-sizes of sweet potatoes
Vegetable oil for deep frying
Salt to taste (optional)
Spices for flavor – Onion, curry, or chili pepper (Optional)
Method of Cooking Step-By-Step
First and foremost, peel your sweet potatoes also called yams
Secondly, use a slicer or mandolin to slice your potatoes into thin sizes. In the same vein, a sharp knife can be used as well to slice into a round shape.
Thirdly, wash and drain water sprinkle your salt and flip repeated to mix, endeavor to drain water to avoid splashing of hot oil.
Next is to bring the oil to heat in a frying pan or deep pot, drop chunk slices of onions as the oil as it sizzles. This is for flavor else skip and stir in the slices of sweet potatoes, fry until color turns golden brown and dry flip to the other side and fry.
Finally, ensure both sides are properly fried to dry else it will not be crunchy, remove from heat and place on a sieve or paper towel to drain the oil.
Repeat the process on every batch you fry until you finish, then sprinkle the chili pepper on it.
At this point, your delicious yummy sweet potato crispy chips are ready then store into an air-tight container.
Serve and enjoy with a glass of juice or chilled soft drink!