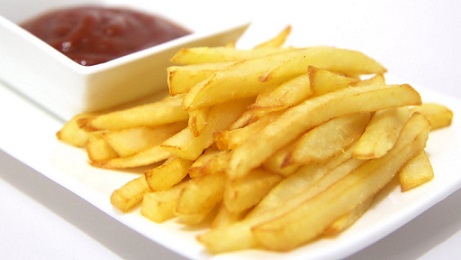 Homemade French fries recipe is delicious, when perfectly fried it usually golden in color with a crisp outer layer and soft inner.
Crispy French fries recipe at home is sweeter and far better than some of the fries in restaurant or burger palace round the vicinity. As a child, growing up was fun, the enjoyment, merrymaking, and play is what gives us joy. However, we love potato fries with ketchup, it amazing especially when we are having it for dinner.
Basically, most people prefer eating fries outside compare to the number of people that makes it at home. They are easy to cook but might take more time especially when it being serve as a meal, because, several batches will be fried thereby taking longer time to quickly round up your cooking.
However, some are of the opinion that there is a secret to a perfect fries which is the double-fried system used in frying French fries that gives the best, how true is this?
This easy recipe can be cooked using a deep fryer or air fryer; they all sound good just ensure you have enough vegetable oil for deep frying.
How to Make Homemade French Fries from Potatoes
Ingredients
2 kg russet potatoes
Vegetable oil for frying
Salt (optional)
Method of preparing chips
First and foremost, peel all the potatoes after that, cut into thin sticks and rinse.
secondly, pour all sliced potatoes in a deep bowl filled with cold water, allow soaking for the next 2 – 3 hours, if you're not in a hast soak overnight, although this style is optional else skip and fry immediately.
Thirdly, as soon as you want to fry, quietly, drain the water and part dry
Finally, bring the oil to heat, pour in the potatoes and fry on low heat until it is well cooked then increase the heat to dry faster as it turns crispy and golden in color.
Lastly, remove from heat allow draining on a paper towel and continue with the next batch till you exhaust all sliced potatoes.
Serve and enjoy with ketchup yummy homemade potato chips French fries.