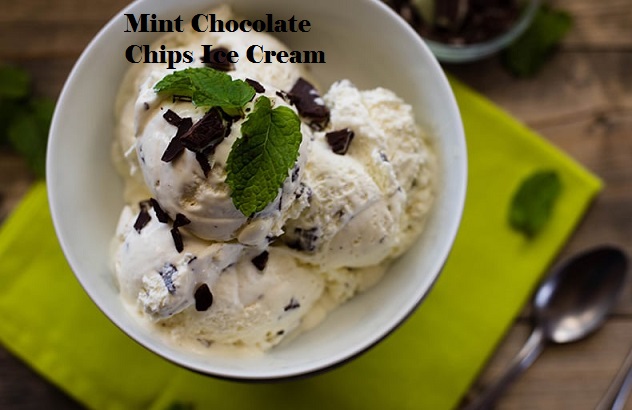 Mint chocolate chip ice cream is made with cream, milk, fresh mint, a dark chocolate semi-sweet and custard base using this recipe you can't go wrong.
Mint chocolate chip is my new found love when it comes to ice cream and latest discovery; I never thought one could use mint to make a healthy mint chocolate chip ice cream.
Homemade ice cream chocolate mint is sweet; the taste of ice cream with mint flavor is not so common in most Nigerian ice cream outlet even in so many homes.
Read Also: https://besthomediet.com/guava-leaves-and-weight-loss-how-to-brew-guava-leave/
Moreover, I call it peppermint chip ice cream what do you think? Why not try this best mint chocolate ice cream this weekend and see how your family will love it.
How to make mint chocolate chip ice cream
Ingredients
2 cups whole milk
2 cups double cream or heavy cream
Pinch of salt
2 tablespoons granulated sugar
12 fresh mint leaves or (1 teaspoon peppermint extract)
1 drop of green food coloring (optional)
½ cup dark chocolate chopped
4 medium egg yolks
Method of preparation
In a saucepan or pot bring the milk to boil, wash the mint leave and add to the milk, remove from heat and allow infusing for 1 hour or more.
Strain using a sieve in a clean bowel after that, discard the mint leaves. But in a situation whereby you are using peppermint extract, you don't need to boil with the milk rather mix with sugar and other ingredients
In another cooking pan mix the egg yolks, food coloring, pinch of salt, and sugar, thereafter, pour in the warm mint milk and continue to stir.
Return the pan to the fire and cook on low heat, while you stir continuously until the mixture forms thick custard, then remove from heat allow cooling.
Gently fold in the heavy cream or double cream into the mint custard and finally, add the chopped chocolate and stir properly to form that creamy ice cream we all know.
Lastly, transfer into a container and freeze maybe overnight or for at list 4 hours until you're ready to eat.
Serve and enjoy ice cream chocolate mint!