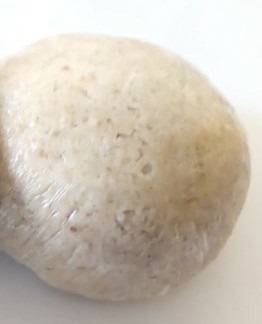 Homemade Oatmeal Fufu – Oatmeal Swallow | How to Make Oatmeal Fufu Recipe
Homemade Oatmeal fufu is made with Oat flour popularly called healthy oat swallow. This swallow is highly nutritious, tasty, and delicious. Oats are cereal often eaten as Oatmeal but in this recipe, you will learn how to make oat for swallow with this simple step-by-step guide.
Basically, Oat swallow has lower calories compare to Garri (Eba swallow), Fufu, Amala, or pounded yam. It's rich in dietary fiber, complex carbohydrates, protein and helps reduce cravings by keeping you fuller for a longer period of time.
A healthy oatmeal swallow can be paired with Nigerian delicious soups like Okro, Vegetable soup, Efo riro, Ewedu, Oha soup, Uziza soup, Nsala soup, and the likes.
Homemade Oatmeal Fufu recipe is very easy to make with only 1 ingredient which is your raw Oats.
Homemade Oatmeal Swallow For Weight Loss
Is Oat Fufu healthy for weight loss?
The answer is YES! Oat swallow is a perfect weight loss meal when it comes to FitFam's choice of Nigerian swallows.
Due to its high fiber content, oatmeal can help you lose weight and is quite filling. Oat fufu has 320 calories per wrap.
However, dieting on foods that are quite filling will certainly help you eat fewer calories each day as you lose weight; Oatmeal Fufu helps boost metabolism.
Benefits of Oatmeal Fufu – Oatmeal Swallow Benefits
It's rich in antioxidants, powerful soluble fiber, gluten-free, and considers as one of the best heart-friendly food.
Oatmeal Fufu has the effect of lowering cholesterol when eaten regularly, reducing the risk of heart disease. So, Oat Fufu will help reduce cholesterol in the bloodstream.
Moreover, it can also keep blood sugar levels stable and energy levels up, as well as reduce your hunger cravings. It has good control on blood sugar.
Eating Fufu made with Oat helps reduce constipation; the fiber in Oats can relieve irregular bowel movements or those finding it difficult to pass.
Oatmeal Flour – How to Make Oat Flour 
A food processor or powerful blender is all that is required, along with your raw rolled oats. Blend or process the oats in the blender or food processor until they become a fine flour, pausing occasionally to stir. After making your Oatmeal flour or powder, place in a tight container and keep it aside for any recipe that needs Oat fufu swallow.
How to Make Homemade Oatmeal Fufu Recipe
Ingredients
Instructions on How to Make Oatmeal Fufu Swallow
First and foremost, is to blend your 2 cups of traditional Oats or Quicker Oat into a powdered form. Pour 1 cup of raw Oats into a blender and blend to smooth Oat flour; after that repeat the process and ensure all raw Oat is now in powdered form.
Secondly, pour 1 ½ cups of water into the pot, cover, and bring to boil.
Thirdly, gradually stir in the Oat flour into the boiling water; use a spatula/turning stick and stir in a vicious circle until a thick consistency is achieved.
Add the little water into the oat cover and allow cooking for about 2-3 minutes; remove from heat and give it a continuous stir to thicken properly.
Finally, dish it out into a plate or wrap it with transparent nylon to keep warm.
Serve and enjoy with your delicious soup!
FAQ
Is oatmeal fufu healthy?
Regular consumption of oatmeal fufu lowers cholesterol and may lower the risk of heart disease. Compared to most grains, oats are higher in fat and protein. 54.8g of carbohydrates, 10.7g of protein, and 5.3g of fat are included in one cup of oats (82g). It also contains a lot of nutrients and fiber.
How many calories are in oat fufu?
For a 60 g Serving Size (60g)
230 calories are contained in one serving of oat-fufu.
Which swallow is best for weight loss?
Most swallows are best avoided if you wish to lose weight, with the exception of oat meal swallow, unripe plantain fufu, guinea corn swallow, cocoyam swallow, and sweet potato swallow, which include low calories and high fibers.
Is oatmeal same as Quaker oat?
Oats are whole grain oats with a shape that are cylindrical it's raw and unprocessed. They are frequently fed to livestock. Oatmeal is often made with rolled oats that have been thinly cut so that it may be cooked in a matter of minutes. While the oatmeal fufu is when it has been processed into a portion of solid food.
Is oats easily digestible?
Oats are easy-to-digest food and excellent staples for all, but in addition to the vegan options foods like tofu, and walnuts.