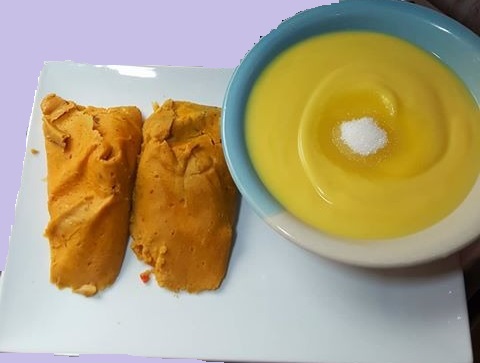 Moin Moin or Moi moi and pap is a staple breakfast food in the Western Part of Africa especially Nigeria.
Pap is a palatable corn pudding that can be served with a list of varieties such as Moi Moi, Akara (Bean Ball), fried plantain and the likes. However, when served with moin moin it's really filling and highly nutritious.
Moi Moi recipe is a whole vibes on its own. It offers a highly proteinous meal, and it can also be served with varieties as a side dish in rice, Salad, spaghetti, plantain, Eko, Bread, garri, and others.
Homemade moin moin with leave is very easy, although some people find it difficult to wrap the leave making it firm to hold the already mixed beans paste as it cooks without spilling out. However, constant practice helps you perfect wrapping moi moi with leave. On the other hand, there are other simpler methods of preparing this recipe like moin moin with foil, moi moi containers (plate), and Nylon bag.
Personally I love moi moi, ever since I discover how to peel beans using a blender or I use bean flour which is the fastest of it all. I call it cooking made easy just go ahead and mix your ingredients with beans flour and in minutes your food is ready.
Health Benefits of Moi moi and Pap – Moi moi with Pap Benefits
Moi moi and pap, also known as moin moin and ogi, respectively, are traditional Nigerian foods that are widely consumed across the country. These two foods are not only delicious, but they also offer several health benefits. Here are some of the benefits of consuming moi moi and pap:
1. Benefits of Moi moi and Pap – Rich in nutrients
Moi moi and pap are both rich in nutrients such as protein, carbohydrates, vitamins, and minerals. Moi moi is made from a combination of beans, spices, and vegetables, while pap is made from fermented corn. These ingredients are packed with essential nutrients that are important for overall health and well-being.
2. Benefits of Moi moi and Pap – Good for digestion
Both moi moi and pap are good for digestion. Moi moi contains a high amount of fiber, which can help to regulate bowel movements and prevent constipation. Pap, on the other hand, contains probiotics that are beneficial for gut health, as well as enzymes that aid in digestion.
3. Benefits of Moimoi and Pap – Boosts the immune system
Moi moi and pap are both rich in antioxidants, which can help to boost the immune system and protect the body against harmful pathogens. Antioxidants are known to reduce inflammation and promote the growth of healthy cells, which can help to prevent chronic diseases such as cancer, diabetes, and heart disease.
4. Benefits of Moi moi and Pap – Lowers cholesterol
Moi moi and pap are both low in fat and cholesterol, which can help to reduce the risk of heart disease. The high fiber content in moi moi can also help to lower cholesterol levels, as fiber binds to cholesterol and removes it from the body.
5. Benefits of Moi moi and Pap – Helps with weight loss
Both moi moi and pap are low in calories and can be a healthy addition to any weight loss plan. They are both filling and can help to reduce cravings and prevent overeating.
How to Make Mio Moi (Moin Moin) with Leave
Ingredients
2 cups Black-eyed peas or brown beans
4 pieces scotch bonnet pepper (Ata rodo)
4 pieces Bell pepper (Tatashe)          
1 large onion
2 tablespoons ground crayfish
2 Seasoning cube
1 cooking spoon veg oil
Bunch of Moi Moi leaves (finely washed)
Salt to taste
Optional Ingredients
3-4 boiled eggs (optional)
Mackerel Fish
Serve with
Pap/Akamu/Ogi
Sugar or Honey
Instructions on How to Prepare Moi Moi and Pap
First of all, wash and peel the beans by removing the skin, you can use a blender to peel beans, thereafter soak to soften. Similarly, you can as well buy bean flour and avoid peeling beans skin since they all serve the same purpose.
Secondly, boil the eggs in case you decide to use egg or wash and spice the fish then cook after that debone the fish and keep aside.
Thirdly, pour in the already peeled beans into a blender with the bell pepper, onions, scotch bonnet pepper and blend until the paste is smooth.
The next step is to pour the pureed beans into a deep bowl, heat the veg oil and pour into the beans, add seasoning cubes, crayfish, and salt to taste.
Finally, mix all ingredients properly, use a scoop to dish beans batter into the wrapped leave then add fish or egg the choice is yours and fold properly then place in a pot already boiling with little water inside it.
In conclusion, cook for about 45 -50 minutes and constantly check to add more water to the moi moi, don't pour too much water at a time, ensure your add water bit-by-bit until moyin moyin is set (done).
Remove from heat, likewise remove from the pot or transfer to another pot and cover to keep it warm.
Conclusion
Moi moi and pap are both delicious and nutritious foods that offer several health benefits. They are both good for digestion, boost the immune system, lower cholesterol, and can help with weight loss.
Make Pap/Akamu/Ogi see how you can make a perfect Ogi
Serve and enjoy!