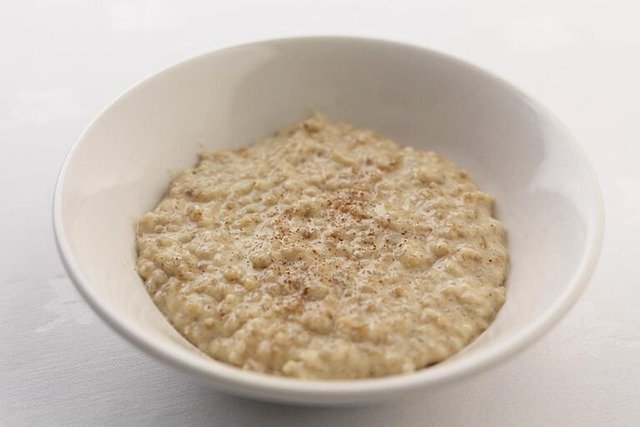 Oats porridge recipe is a creamy, hearty, and warm breakfast pudding that can be cooked either sweet or savory. There are two methods to make oatmeal porridge. One method is to use milk and the other is water. This porridge Oats recipe is a family tradition in most homes and is often served for breakfast. It's easy to make, tastes great, and is also a healthy diet.
However, making porridge Oat begins with the most basic of ingredients. You'll need old fashioned or rolled oats, milk, water, and a pinch of salt for this recipe. To make oatmeal, you only need four ingredients.
In comparison Oatmeal and porridge are exactly the same thing – they're both made by cooking oats with milk or water.
Similarly, instant Oats, Oatmeal, and porridge are all loaded with nutrients. They're made of 100 percent wholegrain and also contain both soluble and insoluble fiber, which aids in cholesterol absorption and daily bowel movements.
On the other hand, adding any toppings of your choice to the porridge oats keep you full and energized all morning!
This oat porridge can be cooked in a pot on stovetops, a pressure cooker, or microwave. This recipe fits well no matter what you use.
When the porridge has cooled fully, puree it for babies and toddlers. You'll get a lovely texture as a result and the child will enjoy it with baby milk.
There are Three Different Types of Oats
Instant Oats
These are finer oats that cook in a fraction of the time it saves you a whole lots of cooking time.
Steel Cut Oats
This is the unrolled, unprocessed whole oat. This are the most time-consuming to prepare, requiring at least 10 minutes on the stovetop.
Old Fashioned Oats or Rolled Oats
Old fashioned or rolled oats are found between instant oats and steel cut oats. They're identical in appearance, but the rolled ones have been slightly rolled/pressed, making them more processed. Since these oats are thicker than instant oats, they take longer to cook.
How to Make Oats Porridge Recipe – Best Oatmeal Porridge
Ingredients
1 cup rolled oats
3 cups water
1/4 teaspoon cinnamon
Pinch of salt
Toppings
1/4 cup whole milk
2 tablespoons sugar (Optional)
Instructions
First of all, boil water in a pot. Add the oats and stir continuously, add your pinch of salt and the cinnamon powder and allow cooking for 4- 5 minutes.
Add your milk and sugar, stir and cook for another 1 minute or until the sugar has dissolved.
Turn off the flame, cover the pot with a lid and allow sitting for 30 seconds.
Serve with fresh bananas or any other toppings of your choice.