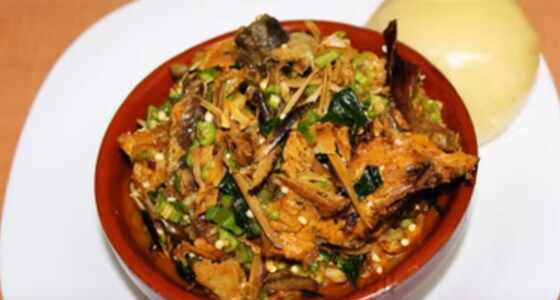 Ofe Ugba: African Oil bean Soup – Ugba Soup Recipe
If you're looking for a delicious and hearty Nigerian dish, look no further than ofe ugba! This traditional Igbo dish is made with African Oil bean and is sure to please any crowd. In this blog post, we'll show you how to make ofe ugba step-by-step, so you can enjoy this delicious dish in the comfort of your own home.
What is Ofe Ugba?
Ofe Ugba, also known as Ugba Soup, is simple okra soup cooked using shredded oil beans and is a traditional soup in Abia and Imo state.
Ugba is also known as Ukpaka and African oil bean seed in English, the soup is known by many other names. You might therefore be familiar with it as Ofe Ugba, Ofe Ukpaka, shredded oil beans soup, or African oil bean soup.
Solution to Insomnia.
Lowers cholesterol levels.
Decreases the likelihood of cancer.
Decreases the chance of cataracts.
A remedy for skin-related diseases.
Promotes heart health and shields against cardiovascular illnesses.
Promotes weight loss.
Ofe Ugba/Ukpaka is an excellent source of protein, amino acids, energy, phosphorus, magnesium, iron, vitamins, calcium, manganese.
How to Prepare Ofe Ugba – Shredded Oil Bean Soup Recipe
Ingredients
1kg meat (beef)
cow skin (ponmo)
20 okra (lady fingers)
1 1/2 cups ugba
2 pieces dry fish
2 pieces stockfish
1 smoked mackerel (optional)
200 ml palm oil
Fresh pepper (atarodo, ose oyibo)
1 handful crayfish
1 piece of ogiri okpei (iru)
1 onion
3 seasoning cubes
1/2 cup Ugu
Salt to taste
Tips on How to Prepare Ofe Ugba – Ugba Soup
First and foremost, wash your meat thoroughly using saltwater, thereafter, wash the Okro and cut in tiny slices, wash, and shred your ugu leaves. keep aside.
Wash and de-bone the fish, chop the onions into small pieces set that aside too.
Next is to wash and scrape kpomo both in and out, and cut into small sizes of choice, then wash you pepper and grind with crayfish ogiri okpei (dawa dawa).
Basically, the quantities of all the ingredients listed above can be adjusted to preference.
However, the ugba must be well fermented, literally sticking together but not rotten, this is what gives the soup a lot of its flavour. If it isn't well fermented the soup will just taste like ordinary okro soup.
Another cooking tips for those outside the shores of country where Ugu leaves (fluted pumpkin leaf) is not handy garden eggs leaves outside Nigeria use leafy spinach is an excellent alternative.
Ugba soup like other soup recipes can be enjoyed with Nigerian swallow eba garri, cassava fufu, amala tuwo shinkafa or pounded yam.
Instruction on How to Cook Ofe Ugba – Oil bean Soup
Firstly, place the washed meat, in a medium-sized pot, add the stockfish, onion, little salt, seasoning cube, and water, and allow cooking for 30 minutes or until the meat is tender.
Next is to add Palm oil, grounded crayfish and pepper, smoked fish, kpomo, Ugba and enough water that will be able to make your soup and cook for 10 minutes.
Finally, stir and taste for salt, thereafter add the okra, stir, leave for 60 seconds, add the shredded Ugu, at this point your soup is ready, stir and turn off the heat.
Serve ofe ugba with swallow eba garri cassava fufu (Akpu).