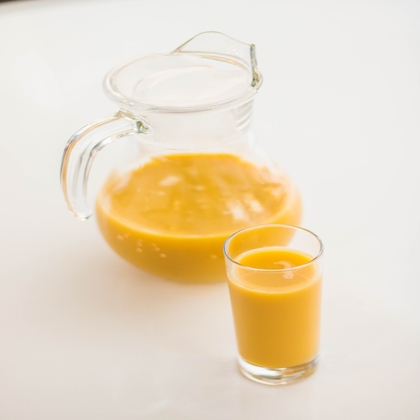 Tasty pineapple and apple juice recipe is great to drink in the morning, afternoon, or if you want something refreshing and healthy. The juice made from these two ingredients is filled with so many nutrients.
Healthy Apple Pineapple Juice with just 2 ingredients! One apple and one pineapple are all it takes to make this delicious homemade juice! It's the right combination of sweet and sour, and it's packed with health benefits like detox and perfect for weight loss drink!
However, pineapple juice combinations can also include either of these fruits ginger, carrots, orange, cucumber, watermelon and the likes.
Health Benefits of Pineapple and Apple Juice Smoothie
Apples
It's a well-known adage that "an apple a day keeps the doctor away." Apples are high in antioxidants, dietary fibre, and flavonoids, among other nutrients. Apple phytonutrients and antioxidants can reduce the risk of cancer, hypertension, diabetes, and heart disease by reducing inflammation.
Pineapples
Pineapples are high in vitamins, antioxidants, and enzymes, and are a tropical fruit. They can support a healthy immune system, strong bones, and indigestion relief. Pineapples are also low in calories, including their sweetness.
Is Fresh Fruit Juice Good for You?
Yes! This juice recipe is not only tasty and simple to make, but it is also very nutritious! Fresh juices will help your body detox, alkalize, and give you a boost of energy and a calm mind.
Juicing is a fantastic way to lose weight (especially belly fat), gain more nutrients, and support healthier lifestyles.
What benefits does pineapple juice have for a woman's body?
It can be particularly beneficial for women because of its high vitamin C content, which helps to maintain healthier bones and reduce the risk of osteoporosis. Pineapple also contains nutrients that are essential during pregnancy, such as copper and multiple B vitamins.
How to Make Apple and Pineapple Juice
Ingredients
1 Large apple
1 medium size fresh Pineapple fruit
2 tps honey (optional)
Instructions
A blender is essential. You'll need a high-powered blender; just combine all of the ingredients in the blender with a small amount of liquid, such as water or coconut water. Thereafter, strain it through a strainer or kitchen silk cloth.
A juice extractor is a device that is used to extract juice from fruits and vegetables Simply run through all of the ingredients in the juicer, and the juicer can take care of the "heavy" lifting.
Serve and enjoy your tasty and delicious pineapple apple juice.