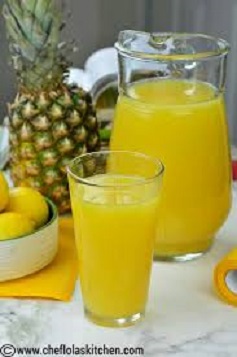 Pineapple juice recipe (Amanas comosus) is a healthy nutritious fruit drink. As children, we don't get tired of being Oliver twist because we kept asking for more fresh juice each time we have access to it. Homemade natural juice is healthier and better as it has no preservative, coolant or sweetener added and is very easy to prepare.
Pineapple juice recipe basically is a fresh juice squeezed from the pineapple fruit.  This low carb energy drink is needed during and after any form of exercise more especially in some countries where there is sunny-hot weather. Freshly squeezed juice can be served as a cocktail drink or as a dessert. Pineapple is an all-season fruit when juiced out can be used to make any kind of fruit drink like fruit salad, mix fruits, smoothies and milk drink.
Benefits of pineapple juice
It contains Vitamin A and Beta-carotene which assist in keeping up visual perception as they avert macular degeneration which is the essential cause for loss of vision as you get older. Eating pineapple improves your eye vision.
Pineapple has a lot of fiber which helps digestion take place properly. Thereby giving you good bowel movement and ease constipation. Drinking this juice chases constipation away from you.
The juice is anti-inflammatory, the bromelain in pineapple helps to relieve pains from surgery, bruises, swelling, and arthritis. Consuming this juice speeds up the healing process from wounds and joint pains.
Vitamins in the juice is a very good antioxidant in combating toxic waste that affects the skin. The high content of vitamin C in pineapple increases collagen production that rejuvenates the skin and reduces wrinkles thereby making you look younger and beautiful with hydrating skin.
As you drink 100 percent pineapple juice is high in fiber. The fiber makes you fill fuller for a longer time which reduces craving; it a low-calorie juice for those on a low carb diet.
Fresh pineapple drink contains manganese that helps in the advancement and support of solid and sound bones. When you squeeze up a pineapple, the juice has about 73 percent of manganese require in the body. It is good for developing children as it helps in the development and advancement of their bones while for grown-ups; it counteracts bone-related issues like osteoporosis by reinforcing the bones.
Pineapple juice recipe
Pineapple
Water
Honey (optional)
Preparing pineapple juice recipe
Wash the pineapple before peeling off the skin, Pineapple is usually not very easy to peel so the knife has to be sharp to enable you to peel off the skin. Blunt knife makes you hate peeling the pineapple.
Chop into cubs or pieces if you are using a blender. Add little water and blend effectively for about 5 mins. Then use your sieve to filter out the best pineapple juice leaving the chaff.
Pure pineapple juice can be done using a juicer or fruit extractor. Slice your pineapple into fruit extractor or juicer it brings out no sugar added pineapple juice.
Pineapple-Apple juice can also be done using a juicer. Its method of preparation is as follows
slice pineapple and apple into the juicer
then mix thoroughly
Serve chilled and enjoy.
Pineapple juice for women
Moreover, It is a good recipe for women and men, consuming a reasonable amount of natural juice without sweetener or preservatives earlier before the action aids your body fluids to savor and scent better.
Women ought to watch how well their genital is faring, especially the smells that come around throughout their monthly period. Similarly, Proper hygiene is necessary because no man desires a woman that smells awful. Smells are really strong but this juice makes you smell better.
Pineapple face mask
Using pineapple face mask is good for a smoother and shining face. The ingredient includes Pineapple, Egg white, and Lemon. This juice removes dead pores while the egg white and lemon act as a skin toner. The bromelain in the juice is good because protect the skin from acne, wrinkles, and sunburn. Mix all ingredients to form a paste, apply to your face leave for 20 minutes rinse it off.
Conclusion
This juice ought to be taken in moderation; excessive consumption of this juice will increase your sugar intake although it is still a natural sugar in a case where artificial sweetener is added.
Furthermore, those individuals suffering from diabetes have to consult their doctors in order not to increase sugar level beyond control, in conclusion for proper functioning of the entire body system drink in moderation and also enjoy all the benefits of this delicious juice.