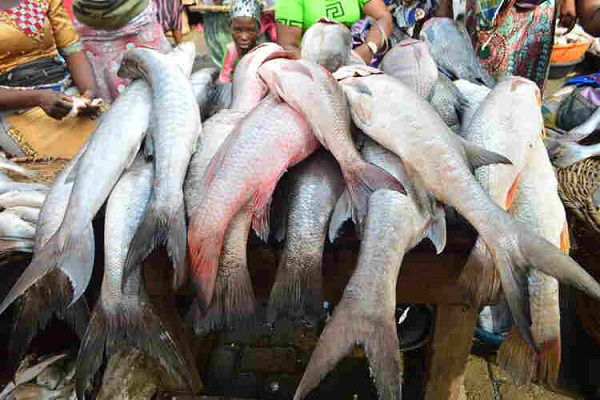 Top 8 Popular Seafood and Fish Market in Lagos Nigeria | Most Popular Fish and Seafood Market in Lagos
With an abundant supply of freshwater, a mild climate and almost no natural predators, Lagos is the perfect habitat for fish. And with that comes a thriving business for those who know how to catch them. Whether you're an avid fisherman or simply someone looking to broaden your palate, there are plenty of places in Lagos to get fresh seafood like Ijora Olopa, Ikorodu, Makoko Yaba, Apapa, Oyingbo, Epe, and Ajegunle, fish market  are all places in Lagos where you can find fresh fish.
Looking for the fresh catch of the day? Port Harcourt and Lagos is one of Nigeria's most popular cities for seafood lovers. The city has numerous restaurants as well as roadside stalls selling fresh fish from local markets.
If you're planning a trip to this West African city, here's where you can find the freshest and most delicious Fish seafood in Lagos.
Is Fish healthy?
Fish is a healthy protein that's good for your body, especially the Omega-3 fatty acids. In fact, studies have shown it's one of the most beneficial foods to your diet – but only if you get it from a trusted source. Unfortunately, this isn't always the case in Africa, where fish contamination and adulteration are on the rise.
To avoid eating fish with high levels of mercury or other contaminants, it's best to trust your local vendor. To find out which ones are trustworthy and which aren't, you need to be educated about their practices. From suppliers that sell crabs, prawns, crayfish and lobsters, frozen raw fish by weight to those who sell smoked and salted fish varieties, there are plenty of ways you can tell if a vendor isn't as trustworthy as you might think.
Here is a list of things to look out for before buying fish anywhere in Lagos:
8 Most Popular Seafood and Fish Market in Lagos Nigeria
There are many marketplaces where you may purchase your preferred fish, like salmon (Titus), catfish, tuna (Kote), herring (Shawa), crayfish, crabs, prawns, lobsters, among others.
Epe Fish market – Popular Seafood and Fish Market in Lagos
Epe is well-known for its fish market, which survives owing to the effort of the people whose sources of income depend on the lagoon and the fish that reside there.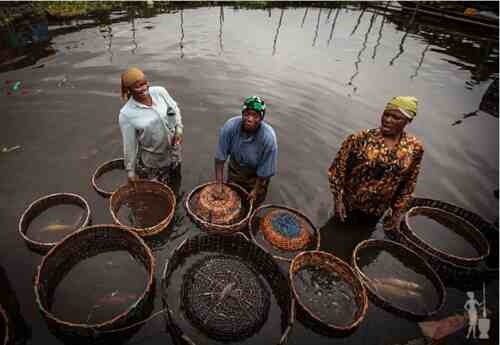 On the northern side of the Lekki Lagoon in Lagos State, Nigeria, is a town called Epe and an LGA. It is a Yoruba community close to the Lagos lagoon.
Discovering freshwater fish is not difficult because Lagos is surrounded by water in all directions, but the fish at Epe Fish Market is different. For those with a more daring taste buds, wild games are also offered (Lobster, Shrimps, Octopus, snails, tortoises, and alligators).
The majority of the fish being sold here, however, is still alive and swimming in ponds or specially woven baskets scattered throughout the market.
Makoko Fish Market – Popular Seafood and Fish Market in Lagos
Makoko people are known for buildings that seem to float on water (floating slum). However, Makoko is a community with a richer history than its reputation for courageous residents who survive in the slums. A thriving seafood market is located there, providing a living for many families.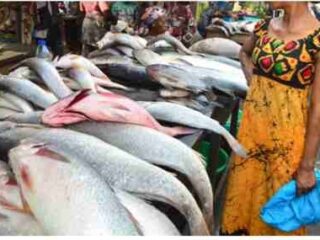 Where is makoko fish market located? In the Yaba area of Lagos, one may locate this fish market. Iwaya, Sabo, Adekunle, or the Third Mainland Bridge exit are the four routes available to get there. Any type of seafood you want, including crabs, lobster, shrimps, fish, and octopus are available in Makoko Fish Market.
Ijora Olopa – Popular Seafood and Fish Market in Lagos
You can find all the seafood you want at this market, which is situated at Iganmu on Lagos Island. The majority of these things are frozen, but it's still a method to keep your favorite fish fresh.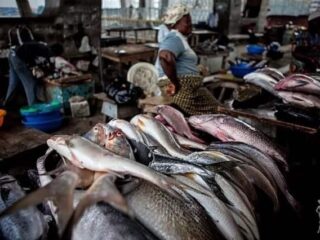 Lagos has a significant frozen food market called Ijora-Olopa. Also nearby is Ajeloro Fish Market in Ijora Coal Wharf.
Ijora used to be a swampy, flooded village where Lagos Island people could paddle canoes to get to their houses. Ijora standard was raised by the establishment of a railroad terminus at the nearby hamlet of Iddo.
Sea foods that are frozen was also transferred to the Ijora wharf they have a better means of storing seafood at the fish market.
Ojah Market – Popular Seafood and Fish Market in Lagos
Ojah market which is in Badagry, is near the border of the Benin Republic and Nigeria. It caters to both Beninese and Nigerians. Fishing is a major career for the people of Badagry.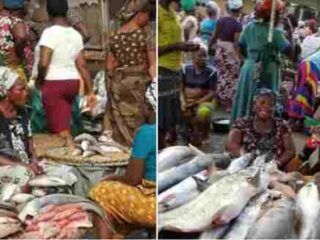 There, eating just fish is a common activity especially for supper. Make sure to get fish at this market the next time you are in Badagry.
The women of Badagry are good in producing delicious smoked fish that is in high demand throughout Nigeria.
Apapa Fish Market – Popular Seafood and Fish Market in Lagos
You love seafood? This seafood market, which is in Apapa, sells a variety of seafood, including shrimp, periwinkle, crab, and more. There you will see giant fish that stare back at you with gaping eyes.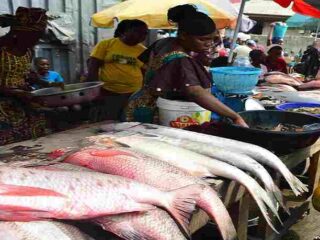 Apapa Fish Market provides countless baskets of your fish species. For those who wish to go out and resell, the market mainly offers wholesales. A canoe ride also includes the bonus of shopping there.
Liverpool fish market – Popular Seafood and Fish Market in Lagos
The Apapa Fish Market is situated opposite the Liverpool Roundabout, where there is a police checkpoint, under the Liverpool Bridge, close to the water.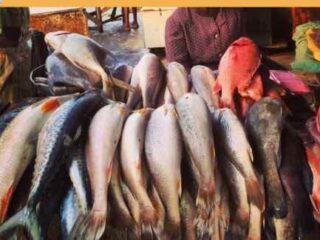 Meanwhile, the Liverpool market draws people from all around Lagos and beyond. The market is well-known for its locally-sold fresh fish, crayfish, and smoked fish.
Liverpool Road is surrounded with business institutions like shopping centers and banks. it one of the busiest routes to the Apapa GRA.
In addition, the boat owners urge customers to use their services immediately in front of the riverfront market.
Oyingbo Fish Market – Popular Seafood and Fish Market in Lagos
The market is well-known for the variety of foods it sells, including yams, garri, beans, palm oil, pepper, tomatoes, vegetables, fish, and meats.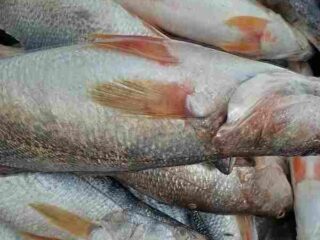 Oyingbo market also has a section where you can buy fresh seafood aside from the popular dry fish and stock fish it is known for.
People will always ask what is lagos fish in English? They are fish caught within the shores of Lagos territorial water its called Lagos Fish.
Victoria Island Fish Market – Popular Seafood and Fish Market in Lagos
Between Victoria Island and Lekki, many residents and tourists come to buy fish from the fish vendors.
The well-known fish market behind the Nigerian Law School Bus Stop on Victoria Island in Lagos city is the greatest place to buy fresh fish Lagos.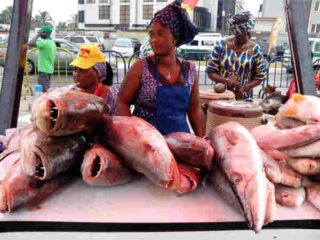 The creek, lagoon, and Atlantic Ocean are where fish of various sizes are found.
Falomo Bridge – Popular Fish and Seafood Market in Lagos
Here under the Falomo Bridge, fishermen and women sell affordable fresh fish caught in the local lagoon. You may easily prepare fish pepper soup for family and friends if you live on Lekki or Victoria Island.
Top Best Fish Joint In Lagos – Fish Lagos
The city Lagos also has some of the best restaurants and cafes in Nigeria. It's no wonder that it's home to a thriving start-up scene as well as some of the coolest bars and restaurants in West Africa. Here is a list of the top fish & chips spots you should check out next time you visit Lagos.
watch out for the Lagos fish joints.