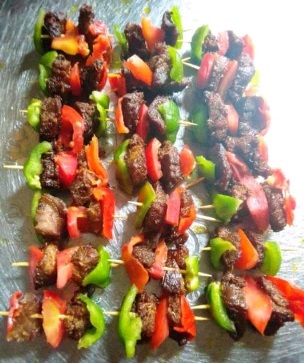 Shish kabob recipe also known as beef Kebabs is a tasty and delicious cooked meat dish in skewer align with colorful veggies. Moreover, the word shish actually means sword or skewers; it's a regular cuisine in the Middle Eastern which is now very popular all over the world.
However, kebab can be a classic meat shashlik or shish kebab is basically small cubes of marinated meat cooked on a stick or iron skewer. Shish kabobs are fun summer meal to eat!
The best steak kebab or shish kebab is a very easy snack recipe to prepare at home with few ingredients from your pantry; this meat on the stick will definitely come out nice.
Beef Kabobs can be ground meat or finely cut meat cooked on a stick over a fire like using the grill method, baked or pan fried with vegetables and other accompaniment. You can also make chicken kabobs as well.
Frequently Asked Questions
Why should you marinate the Beef or Steak?
Not only does it add flavor to the marinade beef /steak, it also tenderizes it. Be careful not to skip this step or the meat may harden. The beef should be marinated for at least an hour or more in the refrigerator; in some cases overnight where you have enough time in your hand.
What is the best beef to use?
When I buy beef for the grill, I always choose tenderloin. It has more fat and more flavor and you can get great results without much cooking!
Chose a less expensive part like the sirloin beef; it is boneless and easy to slice and this kebab is going to be so easy for marinade.
How to Make Shish Kabob Recipe – Meat Kebabs
Ingredients
1kg cut beef (tenderloin)
Ginger and Garlic
Thyme
Nutmeg (optional)
Green pepper and Red bell pepper
Fresh tomatoes
Seasoning cube
Onion and ground black pepper
Salt to taste
Vegetable oil for frying
Instructions
Marinate the beef
First of all, wash and cut the beef into flat chunks and place on a deep bowl.
Secondly, add your ginger, garlic, thyme, black pepper and seasoning cubes, and onion powder.
Thirdly, gently mix all ingredients by hand, gradually rubbing the seasonings into the meat. Thereafter, cover and put in the fridge to marinate for like 1 hour or more.
The next step is to wash all your vegetables and remove the seeds from the red bell pepper, green pepper, and tomatoes. Then cut the vegetables to align with the beef and set these aside.
Remove the marinated beef from fridge ready to be grilled, pan fry, or bake.
How to Pan Fry Shish kabob
 Place the marinade beef in a pot, and then add little drops of water that will help with the simmering; cover, and cooking at medium heat.
The moment the underside becomes pale, flip the meat pieces to cook the top side also until tender. Stir constantly till water is absorbed, you wouldn't want to lose the flavor by throwing away the beef stock.
In a clean pot/frying pan, heat some vegetable oil. Fry the meat pieces till brown and dry. Ensure you stir constantly when frying so the meat will brown evenly.
Remove and transfer the beef to a sieve lined with paper towels and then allow cooling.
Finally, thread your fried beef and veggies one after the other on the beef sticks. How you combine the vegetables and beef is up to you just ensure the final outcome looks colorful and quite appetizing.
Serve and enjoy.
How to Oven Grill Beef Kebabs
When beef marinade is taken out from the fridge, lightly grease the grates of your gas grill with oil and heat for about 10 minutes on high.
Thread the beef and vegetables on skewers. Thread the meat, green peppers, and red peppers on the clean skewers, ensure alternate for beautiful color until you finish. Season with more ground black pepper. (Don't discard the marinade yet)
Lastly, Grill by placing the shish kabobs on the oven grill. Cook for about 8-10 minutes, depending on the hotness of our grill and how well-cooked you actually like to cook the meat. Turn occasionally as the kabobs are grilling, coast the beef with some of the marinades as you turn the skewers around.
Lastly, allow resting before serving, and then remove from the heat, transfer to a serving plate.
Serve and Enjoy!