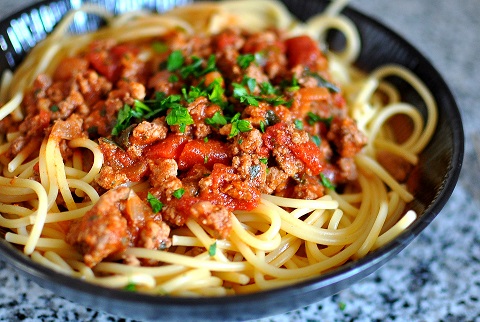 Spaghetti Bolognese recipe is a simple Italian dish cooked with minced beef, tomato puree, minced onions, and garlic and enhanced with either milk, beef stock or wine.
Traditional spaghetti Bolognese recipe all boils down to a thick Bolognese sauce that is speed on top of pasta just like the image we have on this topic or a mixture of Bolognese sauce with pasta. This deliciously easy Bolognese spaghetti can as well be adjusted to taste and how you prefer to cook your recipe.
Moreover, there are several ways on how to cook this delicious food, we have the Gordon Ramsey, the Jamie Oliver recipe, there is also Garman spaghetti recipe they are all savory dishes.
Can Spaghetti Bolognese be Freeze?
Bolognese sauce can be freeze conveniently for over 6 weeks but it is advisable not to freeze pasta/spaghetti because the texture sometimes doesn't seem good when it defrosts.
The following steps should be taken when freezing Bolognese sauce for later use.
Cook tasty Bolognese sauce
Secondly, allow cooling
Package on an airtight container or Ziploc bag and seal
Freeze for not more than 3 months
Allow defrosting when ready to use by removing from the freezer ahead of time
Simply heat on a stovetop or microwave and then boil fresh pasta.
How to make Spaghetti Bolognese Recipe
Ingredients
1 kg minced beef
1 large onion chopped
2 tablespoons tomato paste
1 cup tomato puree or crushed tomatoes
2 cloves garlic minced
1 teaspoon Red chili
1 tub beef stock or beef broth
Fresh parsley finely chopped
Salt to taste
1 pack spaghetti
2 -3 tablespoons veg oil
1 seasoning cube
curry and thyme
Instructions
The first step, bring oil to heat in a skillet, after that stir in your onions and fry, then add garlic continue to fry.
Secondly, add in the minced meat and fry, break up any lumps of meat with your spoon then fry to brown.
Thirdly, pour in the beef stock and allow cooking before adding tomato puree, red chili, curry, thyme, seasoning cube, salt to taste.
Lastly, cook and stir for 10 minutes as it simmers with small bubbles, remove from heat and sprinkle in your parsley.
Finally, pour water in a pot and cook your spaghetti to done and drain water out from it, at this point your slimming world Bolognese spaghetti is ready.
Serve and enjoy!