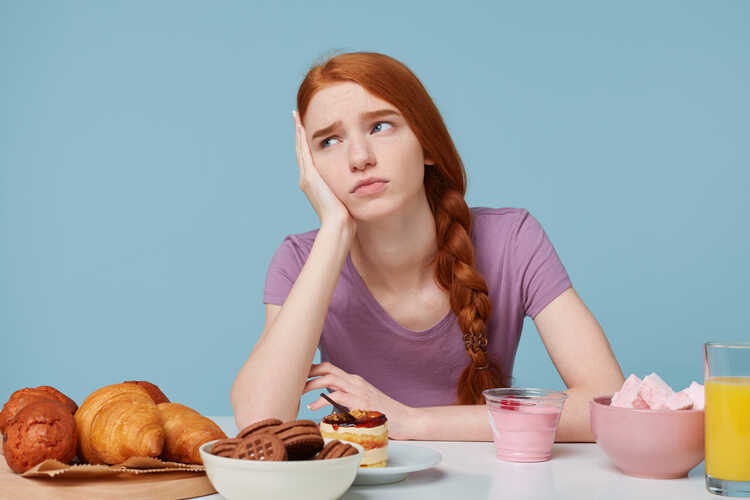 Surprising Reasons You Don't Feel Hungry
Hunger is a natural signal that your body sends to let you know it's time to refuel. However, there are times when you just don't feel hungry, even when it's been hours since your last meal.
This can be due to a variety of factors, some of which might surprise you. In this article, we'll explore the reasons behind a lack of appetite, why it happens, and what you can do about it.
Stress and Anxiety – Is The Reason You Don't Feel Hungry
One of the most common reasons for not feeling hungry is stress and anxiety. When you're under stress, your body releases the hormone cortisol, which can suppress your appetite. Moreover, anxiety can make your digestive system less efficient, leading to discomfort when you eat. This can result in a decreased desire for food.
Reasons You Don't Feel Hungry – Lack of Sleep
Sleep is essential for maintaining a healthy appetite. When you don't get enough rest, your body's hunger-regulating hormones can become imbalanced. The result is often an increase in the hormone ghrelin, which stimulates your appetite, and a decrease in leptin, which signals fullness. This hormonal shift can lead to overeating when you're tired and decreased hunger when you're awake.
Reasons You Don't Feel Hungry – Illness and Infection
When your body is fighting off an illness or infection, it prioritizes the immune response over digestion. As a result, you might not feel hungry. Your body's energy is diverted to combat the health issue, making appetite suppression a common symptom during sickness.
Reasons You Don't Feel Hungry – Medications
Certain medications can have the side effect of reducing your appetite. This is particularly true for medications like antidepressants, antipsychotics, and some painkillers. If you notice a significant change in your appetite after starting a new medication, it's essential to discuss this with your healthcare provider.
Reasons You Don't Feel Hungry – Dehydration
Dehydration can mask itself as hunger. When you're not drinking enough water, your body may send signals that are similar to hunger pangs. Before reaching for a snack, try drinking a glass of water to see if that alleviates your "hunger."
Conclusion
In conclusion, there are various reasons you might not feel hungry, ranging from stress and anxiety to medications and sleep deprivation. Understanding the underlying cause of your reduced appetite is crucial for maintaining your overall health. If you find yourself consistently without an appetite, it's advisable to consult with a healthcare professional to rule out any underlying health issues. In most cases, addressing the root cause can help restore a healthy appetite.
Tips For Regaining Your Appetite
No matter how much you would like to, you must eat. There are a few strategies you can try to regain your appetite if you're experiencing loss of appetite.
Make plans to eat with loved ones or friends. According to the Cleveland Clinic, eating alongside someone else will make you more responsible for your meals.
Enjoy Your Food With Excitement. Choose food that you are looking forward to eating, whether it is a new dish you have been dying to try or one of your old favorites.
Do Your Workouts. Exercise enhances hunger and post-meal satiety, according to studies. If you find it difficult to eat, go to the gym before lunch
Stock Up on Snacks. In this manner, the Mayo Clinic advises, you can respond to a sudden spike in hunger regardless of your location.
Read Also >>>>>> Benefits of Honey And Lemon For Cough
FAQs On Reasons You Don't Feel Hungry
Is it normal to lose your appetite from time to time?
Yes, it's entirely normal. Factors like stress, illness, and changes in routine can lead to a temporary loss of appetite. It usually returns as these issues resolve.
How long can a lack of appetite last?
The duration of reduced appetite depends on the underlying cause. In most cases, it's a temporary issue that resolves within a few days to a few weeks.
Are there any natural remedies to stimulate appetite?
Yes, natural remedies like ginger, peppermint, and regular exercise can help stimulate appetite. However, it's essential to address the root cause of your reduced appetite as well.
Should I force myself to eat when I'm not hungry?
It's generally not advisable to force yourself to eat when you have no appetite. However, it's essential to maintain proper nutrition. In such cases, opt for smaller, nutrient-dense meals and snacks.
Can lack of appetite be a sign of a more serious health issue?
In some cases, yes. A persistent loss of appetite can be a symptom of underlying health problems, such as gastrointestinal issues or eating disorders. If it continues, consult a healthcare professional.
How does stress affect appetite?
Stress triggers the release of cortisol, which can suppress appetite. It can also lead to emotional eating, causing some individuals to overeat when they're stressed.
Can dehydration really make you feel less hungry?
Yes, dehydration can confuse hunger signals. When you're not drinking enough water, your body may send hunger signals, even though it's actually thirsty. Stay hydrated to avoid this confusion.
Does a lack of sleep always lead to a loss of appetite?
Not necessarily. While sleep deprivation can reduce appetite in many people, it can lead to overeating in others. The effect may vary from person to person.
Are there foods that can naturally increase appetite?
Yes, certain foods like nuts, seeds, and whole grains can help stimulate appetite. Foods rich in healthy fats and proteins can also have this effect.
When should I see a doctor about my loss of appetite?
If your lack of appetite persists for an extended period or is accompanied by other concerning symptoms, such as unexplained weight loss or digestive issues, it's advisable to consult a healthcare professional for a thorough evaluation.
Remember that it's essential to pay attention to your body and understand the reasons behind your reduced appetite. If this issue persists, don't hesitate to seek professional medical advice. Your health is paramount, and a proper diagnosis can help you regain a healthy relationship with food.