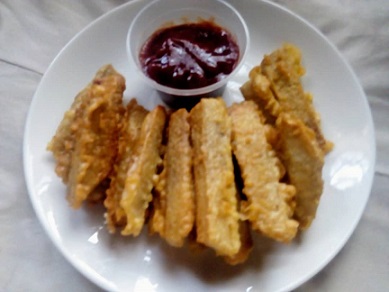 Delicious Yamarita recipe is a little twist on finely sliced yam that is coated with egg and flour spicy batter mixtures. This is then deep fry into a crispy golden yellow color; It's a tasty and delicious yam fries Abinci Doya da kwai.
Yamarita is a popular food in the Northern parts of Nigeria. However, they are best enjoyed when served with fried tomato sauce with all the African flavors in it; tomato ketchup, or soya spice.
Basically, Yamarita dish is an excellent recipe to try if you want something different from our usual traditional fried yam.
Homemade yamaritta can be prepared with flour and other spices but in the absence of flour; you can as well fry with corn flour the taste is still fabulous. They are so easy and simple to cook.
Meaning of Yamarita Food
Yamarita is a fried Yam dish made with flour wrapped in boiled Yam. It is also called Dun dun Oniyeri in Yoruba language; Doya Da Kwai in Hausa (Yam fries Yamarita), diet fried yam recipe in the East.
Moreover, Yam commonly known as African Yam is completely different from what they called Yam in The United States; which is the purple color sweet potatoes with orange flesh.
Although both are root plants (tubers) that are used differently in making any kind of mouthwatering delicacies. They are energy giving food with other nutritional health benefits, but they are certainly 2 different species.
Origin of Yamarita Recipe
Yamarita originated from the Northern region of Nigeria in West African and some parts of Asia. The great thing about yamaritta is that you can rearrange boiled leftover yam and turn it into a new dish.
Similarly, Mega Chicken Yamarita was introduced into their numerous mouthwatering delicacies; likewise Tastee Fried Chicken (TFC) Yamarita's of which you can easily order and eat as much as you want. These eateries will definitely, dress the yam and made them all delicious; they a high in calories eat moderately.
How to Make Yamarita Recipe with Flour and Eggs – Doya Da Kwai
Ingredients
4 Slices Peeled Yam (Yam Tubers)
2 tablespoons all-purpose flour (or Corn flour)
2 eggs
½ Teaspoon of ginger powder
½ teaspoon of ground pepper
1 seasoning cube 
Salt
Vegetable Oil For frying
Instructions
First of all, peel the yam and cut into desired shape and sizes, thereafter, rinse and drain water.
Secondly, pour the yams inside a clean pot, and add enough water, salt and cook for like 8-10 minutes.
Thirdly, drain off the remaining water then leave it on the sieve or transfer your cooked yam to a bowl set aside and allow cooling.
Next, in a bowl pour in the flour, ginger powder; ground pepper; cube seasoning, and mix together. Then, break the eggs into the flour mixture, add some pinch of salt, and whisk all ingredients together for a slightly thick batter.
Finally, deep the Yam one after the other into the egg and flour batter mixture just sure the yam is fully coated.
Lastly, heat up your oil and fry the Yam, flip to the other side and fry until golden brown.
Remove from oil into a sieve allow oil to drain.
Serve and enjoy with tomato ketchup.