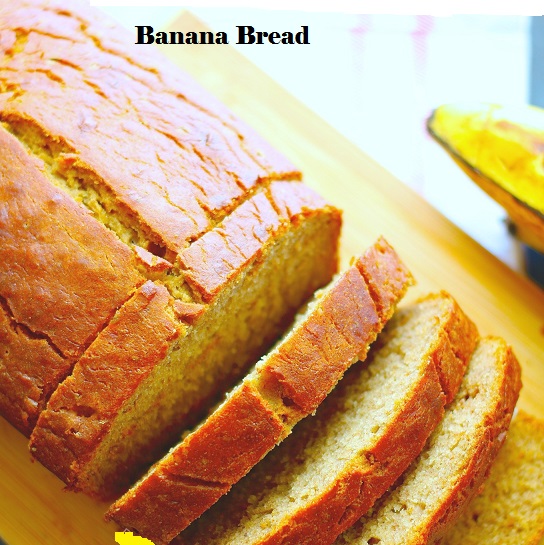 The best banana bread recipe is usually soft and moist, quite tasty and delicious, basically, this bread loaf is baked with mashed bananas, once tasted trust me you won't go for any other bread again.
A loaf of healthy banana bread is sometimes called banana cake but, it actually a bread-like cake.
This golden color banana bread just looks so appetizing and can be eaten as breakfast with a cup of hot chocolate or coffee or as dessert, it equally perfect for snacks with a glass of juice or a cold drink.
The best banana bread loaf is so simple and easy to bake at home especially with very ripe bananas, so when next you have so much left over ripe bananas with dark patches on the skin think of baking tasty banana bread for the family.
How to Bake Best Banana Bread Recipe
Ingredients
2 cups of plain flour
3 very ripe bananas
¼ cup of sugar
3 eggs
1 teaspoon baking powder
½ teaspoon yeast
4 tablespoons butter (melted)
½ cup of milk (optional)
½ teaspoon vanilla extract
Pinch of salt
Instructions
The first step, heat up the milk to be warm, pour in the yeast and keep aside.
Secondly, in a bowl, sift the flour then add in your baking powder, sugar, salt then stir to mix.
Thirdly, in a deep bowl, mash the overripe bananas with a fork since we are not looking out for very smooth banana paste.
Next step, break and whisk the eggs, add your mashed bananas, milk/yeast mixture, vanilla extract, melted butter, and combine properly to mix.
At this point, add in the dry ingredients to the wet ingredients and mix batter to combine properly.
Next step is to grease your bread pan in other to prevent the bread from sticking to the pan when baking and becomes difficult when removing from the pan after baking.
Finally, pour in the batter mixture into a bread pan and bake in your already preheated oven, bake at 160C for about 1 hour.
Lastly, to ascertain if the bread is well baked, insert a skewer or knife into the bread if it comes out clean is well cooked, but if it comes out sticky allow baking for few more minutes.
In conclusion remove from oven and place in a rack, allow cooling before you slice.
Hellooo your moist banana bread recipe is read!
Sever and enjoy!