Corn pancake is a delicious and savory dish which is mostly eating as breakfast in most part of the world in other words corn pancake is a traditional food called Masa/Waina in the Northern parts of Nigeria which they don't usually joke with. However, corn pancake has a good nutritional value as it contains healthy carbohydrate, fiber, vitamin B-12, iron and folic acid that support the production of red blood cells; it's also a good source of antioxidant carotenoid that aids proper functioning of the body.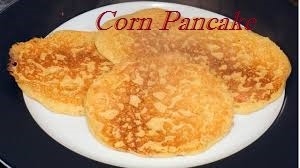 Meanwhile, corn pancake can served as breakfast, diet snacks for lunch after that as a whole meal for dinner can equally serve as dessert it all depend on how you chose to enjoy your corn pancake
Personally l love eating corn pancake traditional food masa/waina with dry pepper spicy known as yaji or with roasted meat popularly called suya in Hausa Language.
Health benefits of corn pancake
It has fiber that promotes good digestion in the same vein gives free bowel movement.
Basically, dieting on this delicious meal certainly boost energy as a result of the complex carbohydrate content and other essential vitamin and mineral.
It lowers cholesterol level likewise blood sugar because no artificial sweetener and fatty oil is added therefore better results is thereby achieved.
Perfect for those who want to maintain a good weight furthermore, the carotenoids and lutein improves healthy eye vision.
Read Also: https://besthomediet.com/lose-weight-aju-mbaise-flat-tummy-tea/
Traditional food – Corn Pancake recipe
2 cups of grounded corn
1 cup of milk
3 spoons coconut oil or vegan melted butter spread
2 eggs
½ cup all-purpose flour
3 tablespoon honey
Pinch of salt
1 tablespoon baking powder
Preparation of Traditional food
Start by getting a bowl sieve the grounded corn, flour, salt and baking powder into the bowl mix making it ready for use,
Next in a different bowl combine the egg, milk and honey and whisk properly i
Then gently fold in the already mix corn into the whisk egg as you finally puree till smooth
Grease your nonstick frying pan or griddle with the melted vegan spread or coconut oil and heat don't over heat, medium heat.
Pour your batter into the pan as you fry gently slant the pan all side it enable the batter spread very well on the pan.
Cook pending when bottom of corn pancake turn golden on that note flip over to the other side and cook to derive a uniform color of golden brown like.
Corn pancake is ready serve and enjoy your meal!!