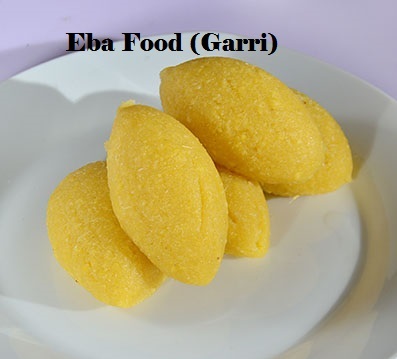 Eba food is a classic Nigerian dish served as an accompaniment to a delicious soup like Ogbono, Okra, Egusi soup, and the likes; Eba recipe is a staple starchy carbohydrate food eaten in Nigerian and in some African countries.
What Is Eba?
Eba is processed from grated fried cassava (Yuca, Manioc, Mandioca, Manihot esculenta, and Aipim) popularly called garri in Nigerian used in making solid swallow.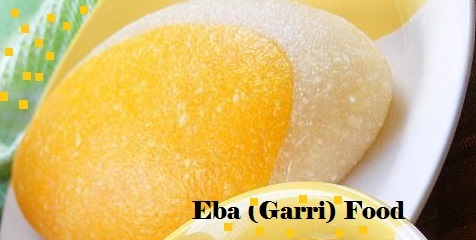 Photo Credit – Foodandlens
However, Nigerians love swallows so, garri is not an exception, taking a handful and rolling into small balls then dip in soup before swallowing is just the right way of eaten swallows.
Garri usually comes in 2 different colors, the white garri and the yellow garri, the yellow garri is being processed with palm oil that automatically changes the color to yellow, while the white maintains its original color.
Various ways you can enjoy Garri
Garri can be enjoyed by adding water (cold water preferable) mix with sugar, groundnut (kuli kuli) or coconut and milk as you drink like cereal, it is also refers to as soaked garri flex.
Chewing garri grains with peanuts, some people chew garri without mixing either in hot water or cold water.
Another way of enjoying this recipe is by making the garri with hot water and mold small balls which are dipped into a traditional Nigerian soup and being swallowed.
How to make Eba without lumps -Eba Fufu
Ingredients & Utensils
2 cups of Garri
Deep bowl
Kettle of hot water
Wooden spoon or turning garri stick
Instructions
First of all, in a kettle or pot boil hot water
Secondly, pour the hot water into a deep bowl
Thirdly, start sprinkling the garri into the boiled water using your hand or a small plate; ensure you spread it all over if there is excess water pour it out then cover.
Allow sitting for 2 minutes before using the wooden spoon to turn consistently in other to avoid lumps in the swallow.
Dish out the eba and serve with a favorite soup.
Serve and enjoy Garri swallow with soup!!