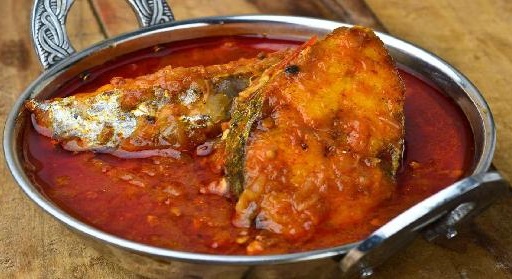 Fish curry recipe or fish gravy is a popular dish in South Indian, a low fat non-vegetarian dish which is also called Meen Kulambu, it's a spicy dish cooked with fish.
How about a simple and flavorful tomato-onion base Indian fish curry that is very easy to make at home.
Meanwhile, I rarely cook fish curry coconut milk or fish curry recipe Kerala until a friend taught me how to make perfect North Indian fish curry recipe it's really delicious.
The ingredients for making fish curry can be adjusted to taste except for core ingredients which should not be altered.
How to make Best Fish Curry Recipe
Ingredients
1kg Fish fillet
4 tablespoons tomato Puree
2 medium-size onions
1 teaspoon curry powder
1 tablespoon ginger paste
4 cloves garlic paste
1 teaspoon cumin seed
1 teaspoon turmeric powder
½ cup ghee or oil
2 teaspoons chili powder
1 teaspoon East End Garam Masala powder
Salt to taste
Water
Instructions
First of all, cut your fish into pieces medium-size shape is fine
Secondly, in a frying pan heat the ghee or oil and start frying the fish gently for about 5 minutes, remove from heat transfer to absorbent kitchen paper towel to drain keep aside
Thirdly, finely chop one onion, then you grind the remaining one
Fourthly, pour in the chopped onion into the oil and stir fry till golden color is ascertain
The next step is to add your ground onion, ginger, garlic, and tomato puree then fry all mixture until the oil begins to separate at this point it's well cooked.
Finally, add all spices and stir fry for another 10-12 seconds, after that, add water and bring to boil.
In conclusion, add your fried fish gently stir and add salt, cover and boil for another 10 minutes on low heat.
Serve and eat with rice, pasta, bread or roti.