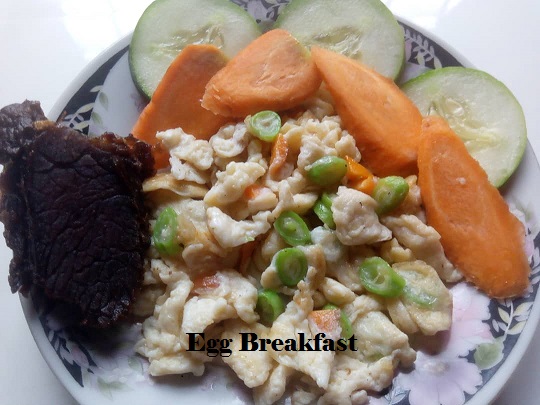 Healthy egg breakfast recipe is a simple egg dish, although is a light breakfast meal but quite filling and good food, why not starts your morning right.
Moreover, there are days you just don't want a heavy breakfast or eat something heavy for breakfast; basically, this light and healthy egg breakfast is exactly what you need.
Homemade Nigerian egg breakfast is very easy to make, it is a recipe that will take only 5 minutes to prepare especially when you are running late and out of time for a very important appointment.
However, don't leave home for a business meetings hunger, else you will be worn-out even before the meeting starts, so don't miss breakfasts remember it is one of the most important meals of the day.
How to Make Healthy Egg Breakfast Recipe
Ingredients
1 large egg
1 small carrot
2 pieces of green bean
2 tablespoons vegetable oil
Pinch of salt
Ingredients for Dressing
3 round slices of cucumber
4 slices of carrots
1 fried beef meat
Instruction
First of all, wash the carrot and scrap the back, then thinly slice, also wash your green bean and slice in the same manner.
Secondly, in a bowl crack the egg and beat, after that, pour in the sliced carrot and green bean, add a pinch of salt to taste, then beat all ingredients to mix properly.
Thirdly, place a non-stick frying pan on the fire to heat, drop in the 2 spoons of vegetable oil and allow heating.
Finally, pour in the egg mixture into the frying pan and fry, stirring continuously, while frying mash it and allow break-up into smaller piece fry for 2 – 3 minutes and remove from heat.
Serve in a flat plate and dress with sliced cucumber, carrot, and fried meat.
Enjoy with a cup of green tea or Zobo drink.
Read other Breakfast Meals