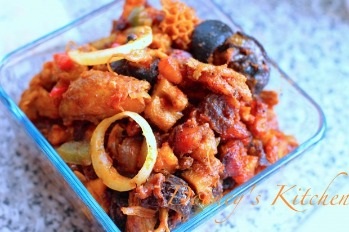 Dooney's Kitchen Delicious Dodorishi
Dodorishi – How to make Dodorishi recipe | Dodo rishi rishi
Nigerians love fried plantains; Dodorishi is all about combining assorted meat with fried plantain in one savory meal.
Plantains are staple food in Nigerian, whether fried, boiled, roasted, or crushed; it can be sweet or savory. Fried sweet plantains are referred to as dodo in Yoruba. Use ripe plantains for the best caramelization results.
However, Assorted meat refers to a variety of animal parts, such as meat (beef) and offal.
What Exactly is Dodorishi?
Dodorishi simply refers to a delicious meal that combines fried plantain with assorted meat
This meal can be served as an appetizer or a main course, when you are tired of eating rice lookout for delicious food like dodorishi sweet fried plantains, spicy stew,  orishishi meat garnished with veggies. This dish is bursting with flavor and it is just the ultimate dish to go for today.
Is Dodorishi Good for Weight Loss and FitFam Diet Plan?
Yes but with some moderate adjustment to the method of cooking; the plantain should be unripe and instead of frying it should be grilled or baked. When cooking this recipe coconut oil or olive oil is the best. Ensure you garnish with enough veggies add your beef or chicken tailored to your taste and preferences.
Is assorted meat healthy?
Organ meats are a delicious way of boosting your diet. They're high in protein, vitamins like B12 and folate, as well as iron.
How to make Dodorishi recipe
Dodorishi is a very simple and easy recipe to make for lunch or dinner or as a side dish
Ingredients
1kg assorted meats (beef, snails, goat meats, shaki, cowleg, chicken – you can pick and choose what type of meats to add)
3-4 pcs ripe plantains
6-8 Balls of tomatoes
5 scotch bonnet peppers (Atarodo)
1 green bell pepper (optional)
1 red bell pepper (optional)
2 large Onions
1 yellow pepper (optional)
Curry powder
Thyme
Garlic and ginger paste
Seasoning cubes
Bay leaves
Salt
Vegetable oil
Instructions on How to Cook Dodorishi Recipe
First and foremost, cut into small chunks after that wash the assorted meats, place them in a clean pot; then add salt, seasoning cubes, curry and thyme, bay leaves, and ginger/ garlic paste; stir properly to mix. Cover for about 45 minutes to marinate.
Next is to add little quantity of water, sliced onion, and cook to tender. If there are snails, chicken, and offals, then cook separately in different pots as cooking time differs.
Thirdly, wash and slice your vegetables ( Red, Green Yellow bell peppers) though (optional) and keep them aside. Blend your tomatoes, scotch bonnet pepper, and onions.
Next is to slice the plantains into chuck cubes and fry with the vegetable oil until color turns golden brown, then remove from oil into a sieve.
In the same manner fry the beef, offals, chicken, snails, with the same oil to golden brown. Remove and transfer to a sieve line with a paper towel to drain.
If the oil is much on the frying pan, reduce it and return the pan to the stovetop. stir in the slice onion, sauté and pour in the blended tomato mix with pepper, fry until the paste is dry.
Then pour your sliced veggies into the tomato sauce, sprinkle some salt, seasoning cube, curry, and thyme spices; add the stock (water) from your meats stir to mix properly, cover, and allow simmering for few minutes.
Add your sweet fried plantains and the fried assorted meats into the tomato sauce stir and cook for 3-4 minutes, taste and adjust salt cover and remove from heat.
Serve your delicious Dodorishi recipe and enjoy!
Also Read >>>>  Assorted Meat Peppersoup