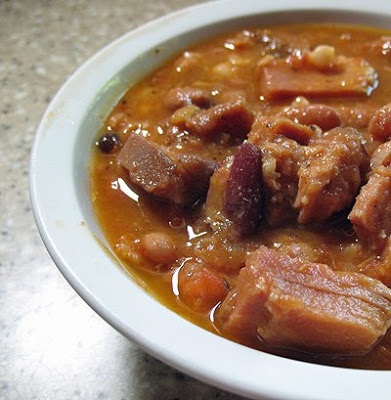 Ham and Bean soup – How to Make Ham and Bean Recipe
Ham and bean soup recipe is a tasty and delicious soup that warms you up inside out, good comfort food that requires only a few ingredients to prepare especially when you have some leftover ham.
Slow cooker ham and bean soup with canned beans is just the easiest of it all because the bean is already cooked, though I like the Hurst's bean HamBeens popularly known as 15 Bean soup mix. The flavor is nice after cooking most grocery stores have it on their dry beans section or order online; on the other hand, navy beans or white bean can equally make good beans and ham soup.
Basically, there are different methods of cooking this mouth watery dish of protein and fiber pack-load with vegetables a hearty meal. It can also be cooked using the crockpot or on the stovetop.
What Happen if No Leftover Ham Bone?
The fact remains that there is nothing so serious when you don't have a leftover Ham it will only increase the cooking time, which means it takes a longer time, so, start earlier else you serve dinner late. Smoked sausage, ham shanks can also be used or whatever you can lay hand on.
Get a fresh order or go to a grocery store near you and buy, make a fresh pot of ham with enough Broth that will be used to cook your beans.
How to Make Ham and Bean Soup Recipe
Ingredients
2 cups dry bean (Hurst's bean, navy or white beans)
1 kg leftover ham
1 large onion finely chopped
2 cloves chopped garlic
1 canned tomato diced
1 tablespoon vegetable oil or butter
½ teaspoon chili powder
Seasoning cube
Salt to taste
2-4 cups Broth (Chicken or Ham)
Instruction How to Make Ham and Bean Recipe Step-by-step Guide
First and foremost, sort and wash the beans, after that, soak in water if you are not cooking immediately or then soak overnight again the next day meal prep. Sometimes I cook instantly on a stovetop, so wash and pour into a pot with enough water and broth until almost tender.
Secondly, in a skillet pan, bring oil to heat, stir fry your garlic thereafter, sauté the onions and tomatoes.
Thirdly, add all other ingredients mix and bring to boil
Finally, pour all mixture into the pot of beans reduce the heat, cover and allow it to simmer before stirring repeatedly until completely tender.
Remove from heat as your delicious grandma's Hambean is ready.
Serve and enjoy with bread, crackers or all alone as soup.