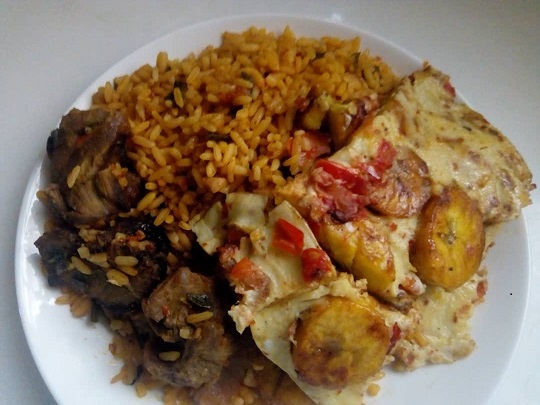 Egg frittata recipe served with Jollof rice is a simple dish that turns your regular meal from the ordinary to a special kind of dish that is tasty and looks fabulous.
Moreover, there are days you want to eat a good launch or dinner of your favorite food with a little twist like the egg and plantain frittata combine with Jollof rice rather than the usual rice and egg or rice plantain dish.
My love for egg frittata is the versatile nature of it, which means you can always make out something from the ingredients you have at home, such as potato frittata recipe, vegetable frittata, spinach, rice, and plantain frittatas, it's a healthy recipe that fits in for breakfast, brunch or dinner.
Some may ask what is a frittata?
Frittata is a crustless egg quiche that is also known as Egg pizza, it's an Italian food that is yummy and delicious and is cooked with the most available ingredients at hand.
How to Make Egg Frittata with Plantain
Homemade egg plantain frittata with Jollof rice is very easy to cook, give your family a weekend treats with fried plantain omelet coated on egg sauce cooked on a stovetop or baked and you will be glad you did so.
Ingredients for Egg Frittata
6 eggs
2 ripe plantains
½ medium-size onion finely slice
2 fresh tomatoes chopped
2 pieces garlic cloves chopped
1 bell pepper (optional)
¼ teaspoon curry and thyme
1 seasoning cube
Salt to taste
Vegetable oil for frying
Served with
Directions
First of all, wash and cut the plantain into round shapes, heat oil then fry plantain until golden color thereafter, remove from heat and keep aside.
Secondly, using a skillet, add 2 -3 spoons veg oil heat and sauté garlic and onions for like 1 minute, after that, stir in your tomatoes and stir fry for about 2 minutes add curry, seasoning cube, and thyme.
Thirdly, in a deep bowl beat/whisk the eggs and add salt and pepper as well, then gently place the fried plantains on the tomato sauce, after that, pour in the whisked egg on top of the fried plantain and tomato sauce.
Finally, clover with a lid and cook on a low heat in a stovetop for 10 minutes as it firms together, lastly when it is completely cooked remove from stove and allow resting for 3 minutes, at this point your savory yummy egg frittata with plantain is ready.
Serve with Jollof Rice and cold sorrels drink