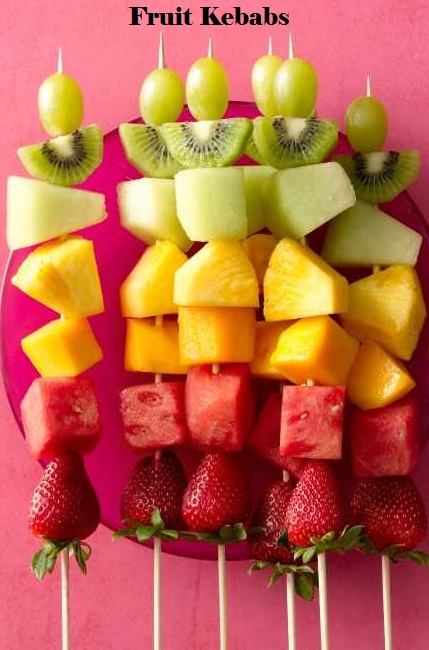 In Nigerian there are great ways to serve fruits like making fruit kebabs; it's a colorful arrangement of fruits on sticks. Its also known as fruit skewers or fruit kebab
Read Also: https://besthomediet.com/baked-chicken-breast-nigerian-style-recipe/
Similarly, these fruits can be served as an ideal healthy snack or cool evening desserts, so, let's go for fruit bouquets today.
These rainbow color fruit sticks are eye catchy, always looking beautiful and cannot be resisted when served.
Basically, fruit kebabs are very easy to make when entertaining a large number of guest or family get together; moreover, it is healthy, refreshing, and quite juicy.
Furthermore, the kids will love these fruit skewers sticks, on the other hand, is a way of introducing more fruits to them especially those that are too selective in eating fruits.
Fruit kebabs for children's party are equally a good idea while you get then involved in making these recipes; it's fun all the way.
How to make fruit kebabs – Fruit Skewers
Ingredients
Wooden kabob skewers
Strawberries (or Raspberries, Red apples)
Watermelon
Pawpaw (Papaya or Cantaloupe)
Pineapple
Apple
Kiwi fruit (or Guava)
Green grapefruit
Instructions on How to Make Fruit Kebab
First of all, wash all fruits, after that, dice your watermelon, pawpaw, pineapple, and kiwi fruit into chunks.
Secondly, use the wooden skewers to strand the fruits in this manner; the strawberry will go in first, then watermelon followed by pawpaw, then pineapple, then apple and kiwi fruit, then finally, the green grapefruit.
Thirdly, ensure each thread contains 7 different kinds of colorful fruits on the wooden skewers.
In conclusion, squeezed out some amount of pineapple juice and sprinkle on the already thread fruits.
Serve and entertain your guest!